Tefal VitaCuisine Compact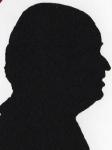 Review controls
No matter how many rings your cooker has there are always times when you are juggling them to get even a fairly basic meal prepared so that everything is ready to eat at the same time. This could be a solution to the problem.
Buy Now!
Tefal VitaCuisine Compact
£99.99 from Argos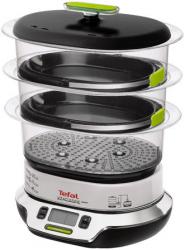 click image to enlarge
One such solution requires bamboo containers to be stacked on top of a saucepan, this is something totally different.
In fact this requires no rings at all as it starts with the base that is the cooking element and above that other containers as required. It claims to be able to produce a three course meal with no mixing of the juices between courses, certainly something that the bamboo containers cannot do as the steam comes through from bottom to top.
The base with the electric element is 29x25x12cm and everything else – rather like a jigsaw – fits securely on top.
The base is the water tank that you fill to the indicated level. On top of this goes the juice collector it is rather like an almost flat colander. You can then fit up to three baskets (with their bases) on top of that to give up to three different steaming areas.
There is a 136page cookbook supplied that has a range of both delicious and healthy receipts for you to base things on.
There is a separate 12 page booklet that explains how to get started and has a total of 19 small figures to explain how everything fits together and perhaps most important a range of cooking times for meat, poultry, fish and vegetables. It is also possible to cook rice and even fruit. There are four glass cups with lids provided and these can produce meals or courses cooked in the unit. These must be used in the top section only.
Steaming has always been a healthy way of cooking and even things that you may have been turned off as a child like cauliflower and greens (mainly because of over cooking) can taste good if steamed for the correct time.
The other advantage of steaming (as opposed to boiling) is that the items do not lose colour and or their goodness.
Perhaps the most impressive thing to me was the booklet even gave instructions on how to store everything in the one container. Unless you have a photographic memory this is something few will achieve without much practice.
The timer can be set for any amount of time (up to 60 minutes) and the less often you lift the lid the better so having decided what goes where you can just turn it on and leave it to do the work while you get on with other things.
Once items are cooked then the unit goes into keep warm mode so items do not spoil unless of course your guests are more than fashionable late.
I have tried meat, fish and vegetable dishes and as a committed carnivore I can say that vegetables never tasted so much like vegetables and fish so like fish. The flavours remain in the items and not in the boiling liquids that normally get discarded. When cooking for one the look is less important but when cooking for a guest or guests this matters and the Tefal VitaCuisine not only allows food to taste good but also look good as well.
Doing my Internet searches found the Tefal VitaCuisine Compact at a best price of £99.99 from link below.
http://www.argos.co.uk/webapp/wcs/stores/servlet/Search?catalogId=1500002201&searchTerms=0505811
Details from the Tefal site on the following link:
http://www.tefal.co.uk/All+Products/Cooking+Appliances/Food+Steamers/Products/Vitacuisine+Compact/Vitacuisine+Compact.htm