Photo Frames from Sony and Agfa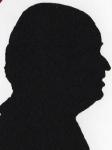 Review controls
Around 18 months or so ago photo frames were are the rage, 'the new must have thing' well at that time I was given one – well almost one – by Sony and now another has materialised by AgfaPhoto, so lets look at both.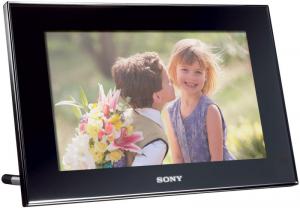 Sony Digital Photo Frame DPF-D70
First the explanation of my statement above. I attended a Sony event in the summer of 2007 where lots of new things were shown and indeed the camera division kept their word and you have heard about their offerings. However – despite numerous reminders – the PC side did not and while I asked for a 10inch photo frame this never happened. At the event I was given this 7inch version minus box etc, as I never like to review items without instructions (in case I miss some ability) it sat on a shelf until now.
It is 21x13.5x4cm, the rear right side has insertion points for various card types including Memory Stick, SD and Compact Flash (including Micro Drive). Near the base is a slide out arm that is the support, the left side has A/C input and a micro USB card input. The right edge has five buttons to control the unit and a button on the top is marked 'view mode'.
In use I found images clear and sharp and the default transitions (for slide shows) were efficient. With normal landscape images there was around a 1.5cm border each side of the screen. For portrait images the borders were a great deal bigger. The displayable area is 15x10.2cm giving the notional 7inch diagonal measurement.
Doing my Internet searches found the Sony DPF-D70 at a best price of £79 including free delivery from the first link below.
http://www.amazon.co.uk/gp/product/B0013K533U?ie=UTF8&tag=gadge0a-21&linkCode=as2&camp=1634
http://www.sony.co.uk/product/dph-digital-photo-frames/dpf-d72
AgfaPhoto AF8070
To call this a photo frame is perhaps an insult as it is far more. It looks like a rather fine leather book. While is can be run from the mains it also has an internal solid battery (fully charged can display slideshows for up to 9hours) and this means it can be viewed like a conventional photo album.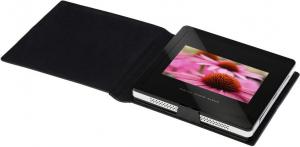 click image to enlarge
It is 23x20x4cm and weights a tab over a kilo. Open the front cover to reveal the 21x19cm screen surround. If you have the on/off slider in the on position it will almost immediately start showing a slide show for any card inserted. The viewable screen is 15.3x10.6cm giving the diagonal measurement of 6.9inches.
Normal landscape images will display full screen with vertical ones showing using a portion of the screen.
The right side (the open side) has a door behind which is the entry point for A/C power, USB lead and the card slot that accepts SD, MMC, and MS it also accepts and works with SDHC cards something a lot of earlier photo frames did not accept.
The top (landscape) of the book has four push buttons and the on/off slider. There is a 15 language manual with 9 pages in English but this sufficient to tell you how to operate the unit. This can be in a single image mode or of course in slide show mode. By default the movement between images is in a variety of transformations.
This would make an ideal wedding gift especially if you took a range of images and sent the card of them to the couple. Permanent memories of the day and the means of showing them to all and sundry for years to come.
Doing my Internet searches found the AgfaPhoto Digital Photo Album AF 8070 at a best price of £149.99 including free delivery from the first link below.
http://www.amazon.co.uk/gp/product/B001KC05NY?ie=UTF8&tag=gadge0a-21&linkCode=as2&camp=1634