Pico Optoma Projector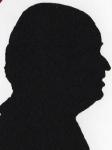 Review controls
This is the smallest projector I have seen; it is smaller than most mobile phones. However from two metres away it can display a bright clear image on any flat wall, in fact I even tried it on a ceiling but that would require you to be lying down on a floor or sofa.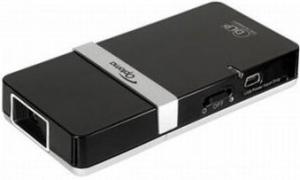 It is 10x5x1.8cm and predominately black with silver/grey underside. It weights 110grams with its solid battery inserted.
When I first saw this demonstrated in October last year I immediately thought of the Flip video recorder as a use. I was promised one the next week well three months later it arrived.
Controls on the unit are minimal with the right side having a 2.5mm A/V input and a focus control. The front has the lens. The left side has mini USB and the three position on switch. The back has nothing while the base has three small rubber feet and a tiny screw thread for the supplied tripod adapter.
The base slides open to allow you to insert the solid battery (a spare is also provided).
From two metres away I got a perfectly sharp clear image of just over a metre wide and around 60cm tall. This would be great for a small group looking at say a power point presentation and indeed it can take input from PDA type devices.
It comes with a set of composite leads ending in female connections thus enabling them to work with any device that has the more normal male set. It appears that a 2.5mm to 3.5mm adapter is an optional extra and this also has the volume control so if your device cannot regulate volume then you could be left with left than perfect sound should you want to play video with soundtrack.
I found that the Flip device works well providing you connect the leads at the right time (certain ways do not) video was excellent but sound through the small internal speaker of the Optoma was rather distorted. I cannot comment of how it would improve with the optional volume control as this was not included in my package.
The battery is stated to work for around two hours but as a spare is provided this doubles the time. I recently came across a mobile phone supplied with a spare battery so that may be the next big thing.
The secret behind the small size and great image is a technology developed by Texas Instruments over twenty years ago. The technology is absolutely fascinating comprising a silicon chip covered in tiny mirrors - up to 2 million. Each of these mirrors is on an even smaller hinge and each can be moved independently of all the others. An image is created by shining light at the array of mirrors. Each mirror can be turned into or away from the light thousands of times a second. When in the light, the beam is reflected to the lens and hence to your screen. When away no light passes. You can vary the amount of light reflected by the number of times the mirror faces the light. By shining separate red, green and blue lights you can create as many colours as you want or need. An advantage of this system over other technologies is that the combination of mirrors and light mean each generated pixel can be very close together, rendering a much better quality image for the viewer. That's the technical bit for those who want to know.
Great image quality lousy sound, it would be nice to connect a computer directly and thus have a limitless supply of material. The volume control really should be built into the unit and not reside on an external piece of kit that is only an optional extra. My other gripe is that the tiny screw to allow you to connect a tripod is rather fragile and a standard fitting should be built into the unit as it is in all digital cameras. I hope my criticisms are taken onboard by Pico and implemented in the next version as this has the potential to be an excellent product. I realize that some redesign might well be required to implement the volume control and tripod screw but these would also allow the fitting of a better speaker that would be essential for people to watch anything with commentary or soundtrack for any period. Maybe a linkup beween Pico and Flip would also produce a workable bundle.
Doing my Internet searches found the Pico Pocket Projector at a best price of £234.71 including delivery.
http://www.amazon.co.uk/gp/product/B001LDJHH2?ie=UTF8&tag=gadge0a-21&linkCode=as2&camp=1634
I found the Pico Pocket Projector at a best price of $399.99 including delivery.
http://www.amazon.com/gp/product/B001L4L7AQ?ie=UTF8&tag=gadge0a5-20&linkCode=as2&camp=1789
I found the Pico Pocket Projector at a best price of €336,53 including delivery.
http://www.amazon.fr/gp/product/B001LDJHH2?ie=UTF8&tag=gadge04-21&linkCode=as2&camp=1642
http://www.optomapico.co.uk/dlp.aspx This link has a video of how the product works.