LG Solar Cube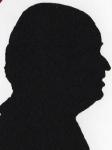 Review controls
Do you fancy cooking a 1.5kilo chicken in half an hour? Roast potatoes in around half that time? Well with the LG Solar Cube not only is it possible I have done it and it tastes fine and was also perfectly cooked.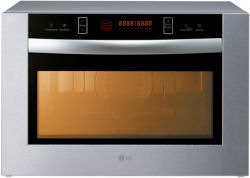 The Solar Cube is 53x37x48cm you should also allow some clearance above and behind for heat dispersal. Its weight is 26kilos. Yes it does get hot when in use and if you touch it you would probably move your hand away quite quickly but I doubt you would be burnt. Around ten minutes after use it is only vaguely warm.
This is a combination of Microwave, Grill, Convection Oven and Halogen source. It can be used in any of those modes singly or in most combinations. However the real secret is in the built in programs that are designed to cook special items that use bits of all four groups of heat.
Open the drop down lid of the oven and you will see three shelves; the instruction book will tell you where to place the metal tray for what job. Yes you can use the metal tray even in Microwave mode as the only no no is foil as the cut edge of it causes the microwaves to arc.
Unlike a normal microwave there is no turntable so if you are using that mode only you may need to turn the food. However the combinations are all calculated for you. Now if you are cooking say a smaller or larger joint or chicken it does not throw it, as, one of the questions you answer is to enter the weight.
Looking at the face of the oven there are six dials and buttons with an LED clock timer in the centre. All the dials are well marked as to their purpose and the forty page owner's manual covers everything in detail. The display uses icons to show what heating method and where in the oven it should be placed. While initially you may be not sure what icon is which after a few uses the position on the display is and if you are following the manual all is easy.
The self clean mode works well and once you have cooked say fish that can smell a little a quick cycle in the self clean mode and the oven is smell free.
There are twelve 'Auto Cook' settings SC1 to SC12 these items are Frozen Pizza, French Fries, Whole Chicken, Chicken Pieces, Beef Steaks, Roast Pork, Roast Beef, Jacket Potatoes, Frozen Dinners, Fresh Vegtables, Frozen Vegetables and Rice/Pasta.
There is a table for each so with SC7 Roast Beef it works with a piece between .8 and 1.8kilos. You need the supplied metal tray and rack and the beef should come from the fridge. The cooking instructions are brush with melted Marge or butter. Place on the rack and turn when the unit beeps, remember to press start to continue cooking and leave to stand for ten minutes at the end of cooking. I cooked a kilo piece of topside in this method and it was delicious. So I took it from the fridge brushed a little fat on it and then entered SC7 and 1kilo and around six minutes before the end (when it beeped) turned it, just as good as if I had cooked in a conventional oven and of course a lot quicker.
The chicken SC3 was much the same just a wedge of lemon and few herbs in the bird and once I had entered the weight it said 31 minutes press start and then turn it on the beep about six minutes from the end. Just like conventional cooking the food gets very hot so treat it like a normal oven and use say a pair of forks to turn it.
I am told it can take a 7lb turkey in the oven. Once you have mastered basic cookery with it then you can venture ahead with the 'Recipes In The Sun' book that came with the oven, my review period was too short for this but they look great. In a flat this could replace the oven, grill and microwave.
Details are available from LG on the following link :
http://uk.lge.com/products/model/detail/lightoven_mp9287nl.jhtml

The Solar Cube is available in a few shops, I found it on the link below at £275.49.