A HD Media Player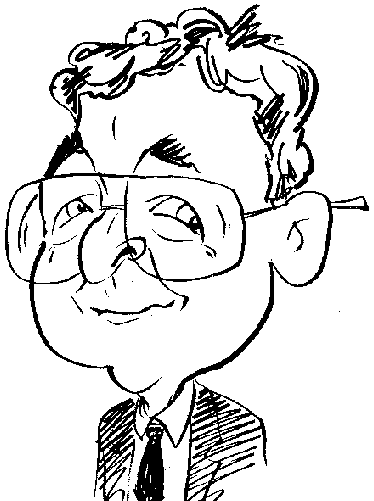 Review controls
Acting as a link between various sources of media content and your high definition television, is the role of a product from Eminent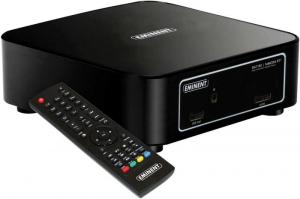 click image to enlarge
Once upon a time home entertainment was relatively basic and straightforward. Mum, dad and all the other family members would huddle together around the wireless to listen to the best that the BBC could offer. Later the wireless would be replaced by the box in the corner as television, first in black & white with the BBC and then colour plus ITV to add some choice, took over. Now we have so many choices, not only with terrestrial, satellite and internet television but DVDs, gaming devices, digital music and photos all jostling for our attention. One way to bring all the various strands together could be through the use of a media player such as the hdMEDIA RT2 from Eminent.
The hdMEDIA RT2 kit consists of the main unit plus a power adapter with two and three-pin plugs, HDMI cable, USB lead, CVBS cables, YPbPr cables, remote control with batteries along with a multilingual User Manual. Adopting the traditional black box approach, the main unit has the popular lacquered sheen that quickly becomes besmirched by finger smears which almost spoil the stylist effect of the rounded corners. With dimensions of 165 x 165 x 60mm (W x D x H), the box's front face features ports for USB and eSATA devices. All the rest of the various connections are located at the rear of the unit. Here you will find Ethernet, two USBs (one client, one host), HDMI, component video, AV OUT/composite and 12V DC power sockets plus an on/off switch.
This HD media player has a Realtek 1183DD C+ chipset. Internal storage is taken care of by a 500GB 3.5-inch SATA drive. Video codecs are provided for AVCHD, H.264, VC-1, MPEG1/2/3/4, MKV, M2TS, TS, ISO, AVI and MOV amongst others while audio codecs include DTS, AC3, MP2, MP3, OGG Vobis, PCM,LPCM,MS-ADPCM, LC-AAC, HE-ACC, COOK and FLAC. There is support for HD JPEG, BMP, GIF, TIF and PNG picture formats.
In order to take advantage of this HD media player you will need to connect it to a display device such as a HD television via the HDMI cable and your network with an Ethernet cable. It is important to ensure that both the television and media player are turned off until the necessary connections have been made. I made this mistake and, as a result, I was faced with a frozen display that refused to respond to the remote control. Once I turned off the television and media player and then powered on again, the problem disappeared.
The Eminent product supports both wired and wireless connectivity. However you will need a dongle to enable a wireless connection. This dongle is available as an optional extra from Eminent. If you decide to go down this road then I would advise that you use the front mounted USB port for inserting this dongle. The reason for this is that this dongle is a little on the bulky side and it blocks access to the client USB if inserted in the rear USB port.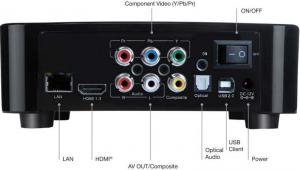 click image to enlarge
You have a choice of four interfaces but none of them are particularly exciting. I opted for the basic black interface. A menu, displayed horizontally across the screen, allows you to cycle through options for Movies, Music, Photo, Internet, Document and Setup options. The first three options allow you to target the internal hard disk, a USB device, memory, attached DVD drive, SAMBA server or UPnP. You can drill down through your chosen source using the remote and have the selected media played through the television with excellent results.
I was initially less impressed with the Internet option which gives you a choice of two selections. The first of these, Internet Media Service, lists a number of web services such as YouTube, SHOUTcast, Metafeeds, Nickelodeon, Gametrailers, blip.tv, flickr, Picasso and CNN. While some of these services give you actual content, there are others which report back that their content is not supported for playback. Eminent does state that it can not guarantee the function of these services.
The second option in this section brings up an unattractive web browser which is not officially supported. In order to make use of this feature you will need to connect a USB keyboard to enter any URL data. It is also possible to use the remote control to enter data by first pressing the red or blue button on this device which switches the alphanumeric pad from numbers to letters. Entering a URL by this method can be rather long-winded but it does achieve its purpose.
The Document section does not, as you might expect, contain documents. Instead this is where you copy files between devices such as the hard disk and attached USB drives. For transferring content from your computer to the media player's hard disk you need to use the supplied SAMBA server from within your web browser or Windows Explorer. You will need to enter the appropriate IP Address for the media player. This address can be found in the Network option from the Setup menu. What the manual does not tell you is that you will need to click on the Visit Neighbour option to access the media player's drive. Other setup options cover audio, video and system features.
Overall the hdMEDIA RT2 was capable of playing a wide range of media files on a television. You also get the benefit of a 500GB hard disk to store media content. However some of the product's feature left me feeling slightly disappointed. It is more suited to the experienced user rather than somebody taking their first steps in this area. Pricing should be around £120.
http://www.eminent-online.com/en/product/861/em7180-hdmedia-rt2-hd-media-player---for-internal-harddisk.html