Canon i-SENSYS LBP 5050n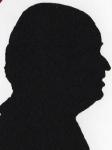 Review controls
A colour laser printer with an RRP of less than £200 surely is worthy of further investigation. The size is not that large something that earlier printers could not say and it prints quite quickly without colour pages printing at ¼ speed.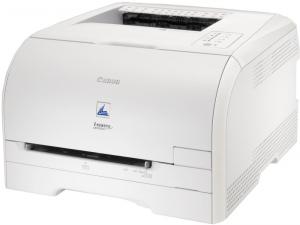 click image to enlarge
The Canon i-SENSYS LBP 5050n is 38x4325cm and as printed pages are delivered face down on the top of the unit no extra space is required. It weights around 18kilos so should be easily moveable if required.
When I removed it from the box I noticed there is a cardboard sling that makes removing it easy. As it had been pre used I did not have to install the toners but if you drop down the front flap you see they all slide out in a single motion making changing a single cartridge easy, unlike some others, that fit in a circle.
It is unlikely that you will ever need to use anything but the on/off switch located at the back left of the unit. Not sure why lasers make reaching this switch so difficult. The power lead fits back left and the USB lead back right. There is a Network version (LBP 5050N) but I was sent the USB one.
A single button is on the top near the front to cancel a print job, behind this are two rows of four LED's and if the illustrations do not tell you their purpose the manual should.
With everyone being more conscious of the amount of power they use the given figures are interesting with colour using less power than monochrome at 207w to 253w. Standby uses 12w and the sleep mode 5w. Perhaps that is why the on/off switch is so inaccessible. I could understand this on a network version that might be in a different room but not with a USB machine.
I found it was ready to print in around 25 seconds from switch on with the manual saying 0 seconds from standby. I found that the green light came on after around six seconds but continued to flash for another minute however you can send items to print and be processed during that time.
One such job I gave it was a 160page database that I printed 4 pages on one. Once sent there is around 90 seconds of thinking time before the pages are churned out at 12PPM and 3minutes and 20seconds from the first page starting to print the last page is printed.
Print speeds on a laser printer are always as stated 12PPM mono and 8PPM in colour. I doubt many inkjets will actually give a true 12PPM for real documents, remember this is for quality printing and for full pages not just the stupid 200 word documents used to time ink jets.
If you use the photograph setting you get a very good image on plain paper and comparing like to like for inkjet and laser on plain paper I liked the laser better as it had more depth. Of course on special photo paper the inkjet wins but it does take a lot longer and the paper is far more expensive.
There are four choices under the General, Photos, Presentations and CAD. On each you can manually tweak the settings. The other three tabs are Page Setup, Finishing and Paper Source. Just a few words on Page Setup, I used the four page on one setting for the database test but 2, 6, 8, 9 and 16 are also possible as well as three different poster modes where an A4 page is spread over 4, 9 or 16 pages in 2x2, 3x3 or 4x4 format. These modes are great for notices etc and allow an A4 printer to perform more like a larger sibling.
In black this give sharp clear letters even when you use a very small font for footnotes etc. In colour for a newsletter it is excellent and for full page colour photos on plain paper really good.
During my whole review period when I printed hundreds of pages I had one paper jam (easy to clear) and I always mix various weights and makes of paper to try to induce such jams.
Doing my Internet searches found the Canon i-SENSYS LBP 5050 at a best price of £152.86 +£5.99 delivery from the first link below.
http://www.amazon.co.uk/gp/product/B001ET6PJ6?ie=UTF8&tag=gadge0a-21&linkCode=as2&camp=1634
http://www.canon.co.uk/For_Home/Product_Finder/Printers/Laser/i-SENSYS_LBP5050/index.asp?specs=1