Alcatel OneTouch Pop D5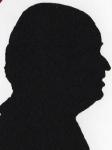 This is a value phone that looks like it should cost more. It has bright easy to read screen apart from when you are in strong sunlight and then those who hanker for a mirror should be accommodated by the ultra-reflective screen.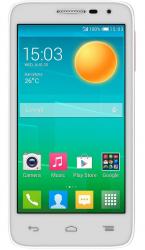 click image to enlarge
The Alcatel Pop D5 measures 13x6.5x1cm and weights 150grams. The viewable screen is 9.7x5.6 which gives the notional diagonal imperial measurement of 4½ inches. That is 480x854pixels.
The back is a tasteful matt black so why can't the screen surround be the same at least then it would not show fingermarks. I know non reflective screens cost more so that's why this has not got one. A fingernail or small screwdriver at the bottom left edge should remove the back to reveal the 1800mAh battery and the Sim and Micro SD Card insertion points.
The top has a headphone jack and the on/off button, the base has the power lead input while the right side has the volume rocker.
Turn on takes 26 seconds while switch off is 3 seconds, both by default accompanied by vibration.
The front camera is VGA while the rear camera mounted at the top of the back is 5MP 2592x1944 and this has an LED flash beside it. I found the main camera took good images and reasonable 720P video @30FPS.
The version of Android is reasonably up to date at 4.4.2.
People are now slowly realising that Android is not exempt from catching viruses so it's nice to see Anti Virus is installed along with Adobe Reader. I found no less than three Internet connection packages, Opera, Chrome and Browser. Dropbox, Evernote, Facebook, Shazam and others are all there. There is an Office Suite as well as four games.
I found Wi-Fi worked well and that Bluetooth also functioned for nearby items.
Out and about I was able to call and receive phone calls without problem and sound quality was acceptable.
The micro SD card works up to 32GB and the Quad Core 1.3GHz processor did allow processing at a reasonable speed. This is a 3G phone. It has 4GB of Internal Memory and 512MB of RAM.
In the box is a 13amp plug with a USB face, a micro USB to USB lead and a 3.5mm set of earbuds.
There is a small 44 page Quick Start Guide that should get even a novice user working away providing they have good eyesight or a magnifying glass as the print although clear is small. This is a lot better than a lot of other phone guides as it not only covers inserting the battery and Sim card etc. but also gets you using the built in Apps such as E-Mail and Messaging.
Improve the very reflective screen and make the surround match the back colour or at least lose the shiny finish, they are both cosmetic features, the phone itself worked fine and while I had it a large system update around 160MB was offered this took a long time and I eventually did it the next day as it stalled initially at around 60MB I assume this was because of congestion. Other standard downloads did not suffer this problem.
The Alcatel OneTouch PopD5 is available from the first link below for £99
http://www.littlewoods.com/alcatel-pop-d5-smartphone-white/1456279890.prd
http://www.alcatelonetouch.com/global-en/products/smartphones/pop_d5.html