FreeAgent Theatre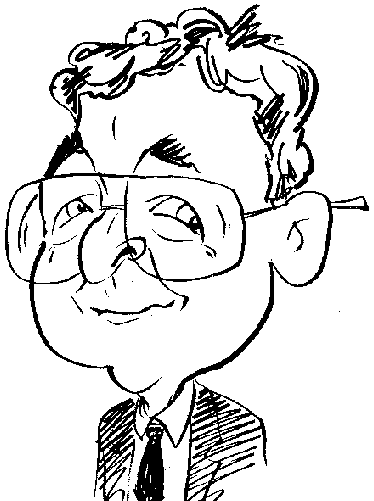 While viewing digital content on your computer monitor is fine for certain activities, for a more enjoyable experience you might prefer to use your television screen.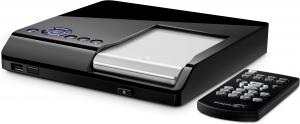 click image to enlarge
Adding to its FreeAgent family of products, Seagate has released FreeAgent Theater. Described as a HD media player for use with your television, the FreeAgent Theater is decked out in black with the top having a fingerprint retaining lacquered effect. Measuring 31 x 183 x 180mm (H x W x L), the player unit comes with a small remote control, mains power lead with replaceable two and three-pin plugs, composite video stereo/audio cable, SCART adapter, setup guide and software CD.
Positioned on top of the player unit is a power switch along with a circular navigation pad and VCR-like controls. There is also a concealed docking cradle that can house a FreeAgent Go external hard drive (this is not included in the package). Arranged along the front of the unit are a USB port and a button to release the FreeAgent Go from the docking cradle. Connections at the back of the unit are provided for mains power plus composite, S-Video, Component and Coaxial linking to a television. For some reason, maybe due to financial considerations, Seagate has taken the decision not to support HDMI or include leads for S-Video and component connections.
While this Theater player unit has been designed to work with the FreeAgent Go product, you can use it with other types of external hard disks. You just need to connect one via the USB socket on the front of the player. The main advantage of using the FreeAgent Go is that it fits snugly into the player with nothing extruding to get knocked or accidentally displaced.
Initially I encountered a problem when attempting to set up this unit with my television. This problem was down to a misunderstanding. I had naturally assumed that if the power light glowed, this would indicate that the device was turned on. However it really meant that it was in standby mode. Once this issue was resolved, the setup continued without a hitch. The player automatically detects the attached hard drive either as a FreeAgent Go situated in the docking cradle or an external drive. There is also an option to select from a range of settings that cover audio, video, photo and movies.
There is audio support for MP3, AC3, WMA, WAV and OGG while video support includes MPEG-1, MPEG-2, MPEG-4, AVI, VOB, DivX and Xvid. You can adjust settings for brightness and contrast; select from PAL or NTSC; opt for 4:3 or 16:9 aspect ratio; and choose from the four supported video resolutions although for the full range you will really need a component connection. Photo settings include adjusting the slideshow timing and choosing from the mere six transitional effects that are hardly the most inspiring or eye-catching. The options for movies include subtitles, audio and menu language plus receiving a hint when a scene has been shot from ore than one angle.


click image to enlarge
Accessing the various setting options does give you an introduction to the FreeAgent Theater software interface. This is hardly the most user-friendly interface that I have come across and it is certainly not helped by the dodgy performance of the remote control. Often pressing a button would get no reaction even when I had made certain that there was a clear line-of-sight path between the remote and the player unit. On other occasions, a single click would activate several jumps and you would fly straight passed the option for which you were aiming. As a result I tended to use the controls on the player rather than the remote.
The interface itself often requires you to work through several levels to reach your destination. I often found it was a quicker option to restart the menu option than work my way back in order to find the correct branch I needed next. Furthermore some adjustment was required with the use of certain keys. Differentiating between the Select and Play keys was relatively easy. I took longer to adjust to the keys assigned to viewing images. Moving between images is carried out by the up and down keys rather than the left and right keys as you might suppose. The left and right keys are reserved for rotating images in 90 degree increments either clockwise or anti-clockwise.
While I preferred using the player-based controls, some actions did require the use of the remote control. To zoom in and out of an image or movies, you will need to use the remote control. Some actions are only available from the remote include repeating a section, switching between movie angles and turning subtitles on or off.
FreeAgent Theater does a reasonable job of managing your media content. Software is provided for transferring and keeping the content synchronised between the chosen external drive and you main hard drive. However if you do prefer to manually transfer data to the FreeAgent's attached drive then you need to be aware that the player unit's built-in software will only recognise content located in set folders. For example when I loaded image files into a folder entitled Pictures, they could not be located until the folder was renamed Photos. A Bookmarking feature was conspicuous by its absence and was sorely missed.
Within its limitations, FreeAgent Theater can deliver its content to your television. You do need to remember that the device acts purely as a conduit. You will need to supply the external hard drive, viewing device and, in some cases, the leads to connect the various elements together. Seagate has priced the FreeAgent Theater at £89. It could well struggle against the functionality offered by some competitive products.
http://www.seagate.com/www/en-gb/products/home_entertainment/freeagent_theater/