Epson Photo Viewer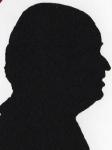 Review controls
Not a photo frame that currently seems in vogue but a device solely for the display of images. What has an object not that much larger than a camera have that a decent photo frame does not?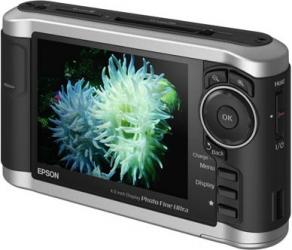 click image to enlarge
The Epson P-3000 measures 14x5x8.5x3.5cm and weights 420grams. The display window is 8.3x6.1cm giving the notional 4inch display. It runs on a solid rechargeable battery. The top has earbud socket, SD and Compact Flash card slots. The right side has on/off hold slider as well as a Kensington Lock connector. The base has the entry point for the solid battery, while the left side has two rubber bungs covering the power adapter and A/V outlet and USB sockets. The back is bare leaving the front to tell you about.
This is dominated by the screen to the right of this are three rod buttons all clearly labelled the ubiquitous five position joystick a back button and near the top two buttons to zoom in and out.
On the face of it most things I have described so far are provided on a decent 7inch photo frame that cost a good deal less and provides a larger display area. However the internal software here is a lot more detailed and lets you fine tune things to a far greater extent. It is possible to access both card slots at the same time, I do not know any photo frame that lets you do that. It also allows you to connect a camera directly using Pict Bridge and perhaps most important it has a 36.2GB hard disc built in.
So while on the face of it a £50 photo frame may offer everything you need this offers you extras and can even be used as a backup for your photos and music that normally live on cards. While direct connection can only be via SD/MMC or the less popular Compact Flash (this includes the slightly larger Micro Drives) other card types can use the standard USB socket in the side and be connected via a card reader.
While not all photo frames do not require mains power most do and here this can operate for extended periods on its internal battery.
If you just want to display a few selected photos on a photo frame then this is certainly overkill. However for someone wanting a comprehensive display device with lots of connectivity and the ability to run for extended periods without mains power then this could be the device for you.
On the same screen it can recognise both images and music, most photo frames that can see both can only do so from their own respected menus.
Viewing a screen of thumbnails (12) move the cursor (joystick) to the one you want and then press the middle button to select it. Press it again to zoom into a portion of the image. With a landscape image I counted 11 moves to get from top to bottom and 21 to get from side to side. So you can really zoom in and all the images I used were still sharp even with the zoom used.
This is quite an easy product to use and basic questions will be answered by the first thirty pages of the Quick Reference Guide that are in English. For more detailed answers and how to do those special things then you will need the PDF manual that is on the accompanying CD and of course that needs the PC to read things, surely with a device like this it should be totally usable without needing a PC.
It can also read from things like memory sticks and even play .avi files direct from them. Some photo frames can do this. If I have a gripe it's that the speaker is on the base and while if you are holding the unit in your hand any sound is clear if it is on say a table or desk it is naturally muffled.
Doing my Internet searches found the Epson Photo Fine Ultra P-3000 at a best price of £289.99 including free delivery from the first link below.
http://www.amazon.co.uk/gp/product/B000JHZXHE?ie=UTF8&tag=gadge0a-21&linkCode=as2&camp=1634