HouseParty 4 from Gear4

Published Nov 15, 2008 Author
petew
Review controls
This is a neat speaker system for your Apple iPod that also incorporates a good FM radio and can also take input from an external source.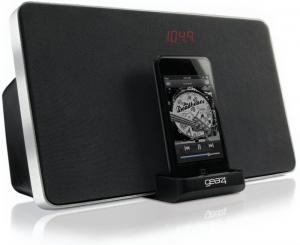 click image to enlarge
Mains powered and measuring approximately 225 x 165 x 100mm (WxHxD) and sporting a black grill with brushed aluminum trim the HouseParty 4 is a general purpose sound-system for iPod.
The product is packaged with five iPod adaptors covering most iPods right up to the latest iPod Nano, Touch and the 3G iPhone. Also in the box is a short 3.5mm jack lead for connecting to other audio source, a small remote control, manual and power supply.
The layout is fairly traditional with the iPod being mounted centrally framed by a black grill covering two 3" speakers providing 30W of power output. Bass output benefits from a rear reverb port. Sound quality overall is very good. A built in sound processor/equaliser provides 6 preset configurations : Pop, Rock, Jazz, Classic Bass and Flat - how you use this will depend on your personal preferences and choice of music. Personally I prefered the equaliser in it's OFF position.
Device status is provided by a red 4 character LED display that's subtly hidden behind the fabric grill above the iPod. Off usually it's invisible, shining clearly through the material when activated.
Basic operation of the HouseParty 4 can be controlled via a row of six illuminated controls recessed behind the top edge of the device. Controls comprise power, mode, up/down tack/station and volume up/down. For full control you'll need to makde sure you have the provided remote control to hand. This provides additional options to control the equaliser, FM station presets and to control your iPod menu.
The built in FM radio fills what I consider to be one of the few design flaws in the iPod design. Reception is through a generaous 150cm (approx) rear wire aerial. Depending on your local signal strength the aerial will need to be positioned, and held in place probably with a little bluetak unless you can dangle it conveniently behind a cupboard. Reception-wise this is one of the better FM radios I've tested. The remote control allows you to bookmark up to 10 stations for rapid access. As a radio fan I would have liked to see a DAB (Digital Audio Broadcasting) tuner, but for most people this isn't going to be a problem.
A line-in socket is provided along with a 3" cable allowing you to connect another audio source. I used this successfully with a portable DAB radio.
On the whole I've been very pleased with the HouseParty 4. The sound quality in particular is very good as was the quality of the FM radio, a feature I've found has let down some other products.
The price, from Gear4's own shop, is £79.99, although it's even better value at Amazon, where you can pick up the HouseParty 4 at only £60.43, including shipping :
http://www.amazon.co.uk/gp/offer-listing/B0018DKQWK?condition=new
The price from Amazon is available for €100,80, including shipping on the following link :
http://www.amazon.fr/gp/product/B0018DKQWK?ie=UTF8&tag=gadge04-21&linkCode=as2&camp=1642