Panasonic Camcorder SDR S26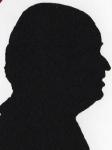 Over the years Camcorders have got both smaller and lighter. The optical zoom has increased and in almost all cases they have got easier to use. However now with huge zooms have they become just impossible to hold still at or near maximum zoom?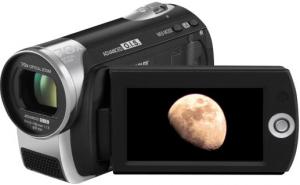 click image to enlarge
, red still camera and inverted green arrow. This is simply off, take movie, view movie, take still image, view still image. Very user friendly. Also on the back is a flip up door covering A/V output and DC input.
The top has the wide angle/telephoto toggle and two other labelled buttons. The base has the all important tripod mount point and the solid battery cover. The right side has the leather finger strap while the front has the lens and microphone. The left side appears clear but flip it open to reveal the 6x3.3cm TFT screen. To the left of this are two controls the ubiquitous five position joystick and the menu button. The side now has three marked buttons and entry point for any SD or SDHC card you might use.
The lens can zoom to 70x optical but even with the unit steadied on a wall it was impossible to hold still at more than around 50x. I was also surprised that the lens cover needs to be manually opened and closed, okay when you are used to it but until then you often forget to close it after shooting and so run the risk of damage by scratching to the lens.
While I am a dinosaur and prefer a still camera to take still images it was tempting to try to take advantage of the huge zoom available. The still images it takes are only 640x480 and the same thing about keeping the unit still applies as with movies. I took a range of images of famous landmarks both up and down the Thames from Waterloo bridge and for VGA images they were quite acceptable but don't go mad with the zoom as you will be disappointed.
Any movies you take cannot be read directly in Windows XP as the .mod files are not recognised Vista will play and sound from them in Windows Media Player but not the images. I could play them in Windows 7 but I can't be sure that was not other third party software that made it possible.
However Panasonic provide VideoCam Suite that allows you to import images and either convert them or burn them to DVD either way they are then viewable.
The quality of both sound and video was excellent. As regular readers will know I often take short clips as gigs and sometimes any zoom action tends to kill any music while taking place, here I was seamlessly able to zoom in and out. However the amount of zoom I used was never great as I was reasonably close to the musicians.
I was sent a 'white box' version and while it had all the leads etc there was no documentation so I may not have tried all the bells and whistles for the unit.
This is a light easy to use unit if you intend to make use of all the zoom a tripod is a must. However I was less than pleased with it in low light conditions.
Doing my Internet searches found the Panasonic SDR-S26 at a best price of £178.47 including free delivery from the first link below.
http://www.amazon.co.uk/gp/product/B001QXDLDI?ie=UTF8&tag=gadge0a-21&linkCode=as2&camp=1634
http://www.panasonic.co.uk/html/en_GB/Products/Camcorders/SD+Camcorders/SDR-S26/Overview/1974011/index.html