Lindy USB DVB-T TV receiver

Its small size and low price make Lindy's USB DVB-T tv receiver worth looking at -- especially for the notebook user.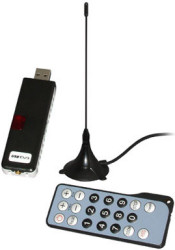 Having cut through the plastic of its display package I found that, in addition to the DVB-T Stick together with its USB extension cable and remote control, which weigh less than 100g altogether, there is a stick aerial attached to a 1metre cable, an aerial connector adapter and the driver CD. Where I expected to find the quick-start guide there was, in fact, a fold-out leaflet advertising a whole range of Lindy products.
All documentation, drivers and installation software were on a mini CD.
Knowing that digital terrestrial TV needs a good aerial signal, my starting point was to connect the receiver to a known good external aerial, using the provided adapter and then to a free USB port. The channel scan found 65 channels commencing CH1, ITV1; CH2, ITV2; CH3, ITV3; CH4, Teletext Cars; CH5, Channel 4 etc.
As well as the remote control, there is an on-screen control panel. The latter, as well as the usual channel changing and the recording/playback buttons provides access to the set-up facilities.
As one would expect, it is a simple task to switch between channels. However, I could not find any way of changing the channel mapping to get, as we all expect, CH1 to be BBC1; CH2, BBC2; and CH3, ITV1 etc. This is a major nuisance but, as this is essentially a personal product that one would use with one's own computer, it is possible to keep a note of which channel is which. In this context, we can only hope that this is sorted out with the next version of the software.
However, I just got the message "weak signal" but no pictures when I changed to the provided stick aerial and then only 4 channels including BBC1 and BBC2 when using a multi-element indoor aerial. Thus, it is only realistic to use this DVB-T (and probably most other similar units from other vendors) when there is a good aerial signal.
That having been said, recording and playback were straightforward and posed no problems.
As can be appreciated, it can only be used where there is a good signal. Thus, unless you happen to be in an area of very high signal strength, this means a good quality fixed aerial. Hence, its real use is not for the person who wants digital TV while travelling away from home, but for the person with either limited space such as in a bed-sitter or is a computer user who needs to get TV on a very limited budget.
Although it does not appear to be widely available, it can be obtained new from Amazon for £32.99