Goodman's Boom Box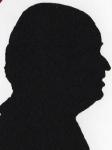 Review controls
A competitively priced product in a field where most manufacturers have at least one entry. This one has CD, tape (I am told this is still requested), MP3, USB and FM/MW radio.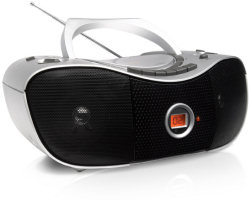 This looks very like those offerings of a few years ago that used to be humped around on the shoulders of youths. It is 34x22x13.5cm. The width (middle figure) is a little misleading as it narrows to only 13cm at each end. The weight is around 2.5kilos. The unit is grey with black mesh over the front.
To play CD's you need not only the controls on the top of the unit but also the remote control as amazingly the unit itself does not have a play/pause button. To play cassettes everything is in a curve on the front edge of the unit. To play the radio the manual tuning bands are on the right front side of the unit. Rather a mish mash.
This is no hi-fi system as there is a volume control front left of the unit with a reasonable range but no treble or bass with the exception of the bass boost button on the right front edge.
It can be used on mains or for those with strong shoulders via 8x'C' cell batteries. I find the 18 key remote strange rather like something added when people realised there was no way to play CD's. It also -via a toggle - goes through SD/MMC cards and USB. The only other actions it does is allow you to select a numbered track or move back and forward through the tracks. With a device like this that is not designed to work in a huge area why have a remote? If you do have one then surely it should the ability to lower/increase/mute the volume.
The radio quality on MW is fine via the internal aerial and on FM via the four piece 60cm rod aerial, there are mono and stereo FM bands. The unit has two large speakers that dominate the front of the unit with the only other item being a small 2.5x1.5cm LCD display that is remarkably clear -black on yellow- when viewed from above, okay when viewed straight on but useless when viewed from below. This shows the track number being played, CD/SD/USB and right arrow or flashes when in pause mode.
There is a 3.5mm jack plug but I can see few occasions when it would be used unless the child has thought for others when in their room or when walking around. It also has a pin hole microphone and the ability to record from all sources of input to the cassette deck.
I dragged out a couple of cassettes from a drawer and the reproduction was fine, I also found a blank cassette and recorded from the radio, CD and even from an MP3 track on a SD card, you can also do the same from a USB stick.
There is a sixteen page instruction manual and while I have seen better everything seems to be covered if you read it all.
The CD can play not only normal audio CD's but also CD's of MP3 tracks and once you master the remote you can even move between folders so you could store music according to your mood and remember around 20 hours of music can be stored on a single CD in MP3 format.
This unit is I am told available from Asda at £34. I could not find it on their site so it must only be in their shops.
http://www.goodmans.co.uk/productdetails.aspx?pid=GPS165MP3R&language=en-GB