Tenori-On by Yamaha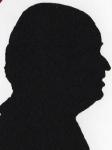 Review controls
Is this a musical instrument or a tool to be used by a DJ, in the right hands it is either or both. One thing is certain it is like nothing else I know.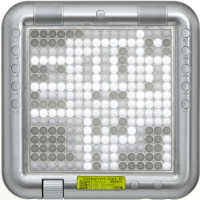 click to enlarge
It is 20x20x2.5cm and weights (without optional batteries) 680 grams. The case is brushed aluminium and there are two small speakers inset into the top rim of the unit. Inside the rim there are 16 rows and 16 columns of .7cm round push buttons that can light up.
Round the rim apart from the two speakers there are 13 buttons, a spin wheel and 5x1.5cm LCD display to the wheels right. On the under edge is a on/off slider. The top edge has insert point for an SD card and the bottom edge has 12volt input for the provided power adapter, midi in/out and 3.5 headphone socket.
The underside looks much the same as the top except the grid of 16 rows and 16 columns of .7cm buttons do not push and only light up - ideal for display for the DJ. It does not have the buttons but does have the two speakers as well as insertion points for 6x'AA' batteries, a little strange as it takes 12 volts from the mains adapter to only take 9volts from the batteries.
There is a 28 page Quick Guide and to produce any worthwhile music you will certainly need to read and I mean study and try most if not all of what it says.
The instrument can be held in the hands or operated on a desk/table. To operate in yours hands the thumbs can then operate the ten function buttons (five each side) in this way you can move through the various layers of sounds you have created, it is not really able to produce much 'live' action. The sounds can be stored in memory or on external SD cards.
It has six modes but until you have used the device they are really just names. Score, Random, Draw, Bounce, Push and Solo.
In Score mode once turned on lights loop across the 16x16 access and any light on produces a sound the pitch is highest at the top and lowest at the bottom. The default factory setting correspond to the white keys on a piano thus the 16 notes give just over two octaves D down to C. However via the menu (scroll wheel and LED display) this can be adjusted.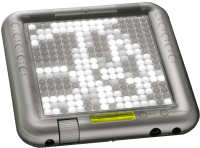 click to enlarge
So a basic pattern or loop can be produced and you can of course using the menu adjust the loop speed. There are a basic 256 voices (actual 253 stored and three available for you to program) this is done using L1 key. The L2 key changes note length, L3 changes octaves, L4 changes the loop point, L5 changes loop speed. That should keep your left thumb occupied.
Now for the right thumb. R1 switches layers (16 available), R2 changes tempo, R3 transposition altering the pitch in semitone increments, R4 changes the layer volume and finally R5 switches blocks (16 available)
Given that there are 16 layers to a block and there are up to 16 blocks the possible sounds are enormous. I am not a musician, I enjoyed tinkering with it but to give it a better test I let a couple of musicians loose on it for a while. One in his twenties immediately started getting pleasant sounds and another three times his age who still earns a living at his keyboard found it rather daunting but still produced some rather nice output in only a few hours.
When I first saw this it was demoed by a DJ and the light show and sounds linked into what he was doing, certainly a musical instrument but need experience to use it well.
Doing my Internet searches found the Yamaha Tenori-On at a best price of £629.
www.amazon.co.uk/exec/obidos/ASIN/B000Y829LQ
www.yamaha-europe.com/yamaha_europe/uk/service/070_news_events/20080229_future_of_loops/index.html