Google Chromecast Audio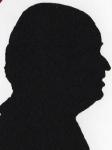 Chromecast has been around for a while, there is a new version just out which I shall tell you about another time. This however is a totally new product that allows you to 'cast' your music to speakers anywhere without draining your devices battery.
Buy Now!
Google Chromecast Audio
£30 direct from Currys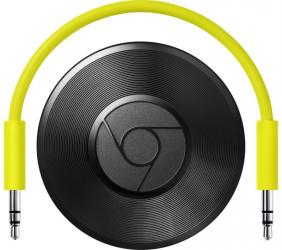 click image to enlarge
Yes even those speakers that do not have Bluetooth can now play your music not only from your SmartPhone but also from other devices like your PC providing you have a Chrome browser. The unit is supplied with a 3.5mm to 3.5mm cable but providing you have the correct lead you can even connect to speakers with Phono Sockets and hence to units that even say have a sub-woofer so your music can now have much more grunt.
The unit consists of a small circular disc 5cm across and only 1cm thick.
It has connections on one edge for the 3.5mm lead and opposite this the mini USB lead to mains plug.
Three simple steps once it's out of the box, Plug In, Setup and Enjoy.
The majority of people will use this device to let their mobile phone deliver sound to better speakers.
What is different is that once everything in setup and working the streaming is taking place from the cloud to your speakers and you can let your mobile phone do other things. The Smart Phone effectively becomes a remote control to allow you to change tracks if you mood changes and even to change sources.
The Chromecast Audio works with Android or 'i' Phones as well as MAC and PC assuming that you use the Chrome browser with an plugin that you download.
If you use something like Spotify it allows you to select your Chromecast Audio as a speaker from the base of the display screen, so a couple of seconds after you select it then the music stops on your phone and starts being sent from the cloud – via Wi-Fi - to whatever the Chromecast Audio is connected to.
Most single unit portable speakers have an Auxiliary Input just plug the Chromecast Audio into that and it becomes a better sound than your SmartPhone.
However if you have better units that uses Phono Sockets a lead from two Phono to 3.5mm is easily available from lots of outlets and just replace that from the 3.5mm socket on the Chromecast Audio and attach the Phono leads to the speakers and prepare to be wowed with the quality that you never thought your audio had.
When I first heard the announcement I was underwhelmed as I thought most Smart Phones have Bluetooth and modern speakers also have Bluetooth but as I found when I tried it even with a small Bluetooth speaker the quality is a lot better from the Cloud and you are not draining your Smart Phones battery as Bluetooth does.
When you hook it up to speakers that never knew about Bluetooth or Wi-Fi then especially if you have a sub- woofer that really lets your sounds go wow.
This product is brand new I think the first shipment arrived in the country only two weeks before today's first sale date so supply may still be limited in the short term. It also found my Amazon Fire TV Stick as an outlet.
The Google Chromecast Audio is available from Curry's either in store or from their web site for £30.