All change as Apple revamp the iPod family

Published Sep 7, 2007 Author
petew
Review controls
Apple have unveiled a torrent of changes to their iPod range of entertainment devices (they do a lot more than play music now!). Have the change done enough to boost Apples sales for another holiday season?
Buy Now
New iPod Nano 4G/8G
New iPod Classic 80G/160G
iPod Touch 8G/16G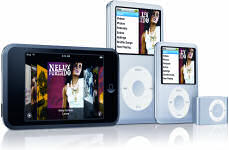 Steve Jobs, CEO of Apple, was in fine fettle delivering his 90 minute keynote speech to the Apple faithful this week as he rattled through product after product and feature after feature. All members of the range have been revamped, and a brand new product has been added to bring the iPhone interface to the media player family.
iPod Shuffle
The shuffle is the least changed of the line up - all this gets is a revamped set of colours including a product red version, which when bought Apple will make a donation to this charity that aims to fund and distribute drugs to those suffering from Aids in Africa.
iPod Nano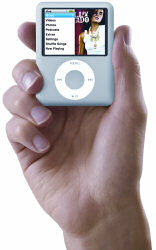 iPod Nano
The nano has changed significantly from it's tall, slender form into a wider,squatter form factor. This change has been to allow a high-resolution screen to be added to the device that in turn allows picture browsing and video replay.
Although the screen is only 2" in size, it has the same 320x240 resolution as the traditional iPod video (now named iPod Classic - see below!). Apple claim this is the highest density screen on any portable media device at 204 pixels per inch.
As with the 'nano' there is also a Product Red variant.
The new screen has also facilitated a new user interface. A key feature of this is 'cover flow' - an interface that allows you to browse your music visually by seeing album covers. Sound interesting? It's been added throughout the range and certainly looked impressive in Apples demo.
The new screen has also opened up the option of games playing on this machine, and to encourage you there are three games included in the product as shipped with the ability to download others via iTunes.
There are two capacities - 4Gbytes and 8Gbytes. Most vendors are promising delivery in the next few weeks. Most are quoting what looks like a standard price. Both John Lewis and Amazon have the 4G Nano for £99, with the 8G at £129.

iPod Classic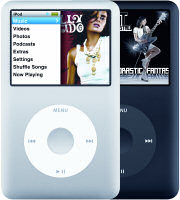 iPod Classic
The original iPod - called simply 'iPod' has been renamed. It's now the iPod Classic, to identify it as the device that started the craze. The revamped model sports an entirely metal case and is even thinner than it's predecessor. The lowest capacity version now sports a massive 80Gbyte capacity. The other option is a 160Gbyte device.
With improvements in engineering battery life has also been extended with 30 hours audio/ 5 hours video on the 80G byte version and 40 hours audio/7 hours video on the slightly thicker 160G device.
As with other updates to the range, the iPod classic is given a revamped user interface. Stick should be available in the UK within the next few weeks, but most vendors are taking orders now.

iPod Touch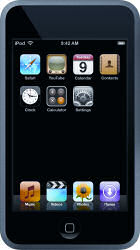 iPod Touch
This is a new addition to the family. Following on from the wow factor of the iPhone 'multi-touch' interface, which so far has only been released in the US, Apple have taken that look and feel and moved it to a media player.
Freed of the problem of negotiating with mobile operators across the globe, the iPod touch is to release world-wide.
But this is more than an iPod with a fancy new interface. Apple have created what looks to be a very appealing product. The screen is a crisp 3.5" with a resolution of 480x320 pixels. Although physically smaller than the highly acclaimed Sony PSPs 4.3" screen, the resolution is actually better than the 480x272 offered by the Sony product.
The iPod touch can be used in portrait or landscape mode, with automatic detection of how it's being held.
As well as tradition iPod functionality of music, photos and video, Apple have provided this device with a WiFi 802.11b/g wireless interface. As well as the hardware the system includes a tailored version of the Safari web-browser used on Apple computers.
Built-in Internet access also provides the opportunity for new applications. A variant of Apples flag-ship iTunes product has been built into the player - now if you have direct Internet access you can buy music and video directly from the iTunes store and download it to your iPod touch. Next time you connect to your computer any mobile purchased content is synchronised up for safe keeping.
Building on the Internet theme, Apple have also included specific access to the FaceBook social network and YouTube videos, increasing the appeal of this device further.
Two memory options are available : 8Gbytes and 16Gbytes. That's pretty huge for what you're likely to want to do with it. In terms of video even on 8G with resolution optimised for the small screen you're going to fit in a number of full length motion pictures.
The final point to note is this : Apple have crammed all this functionality into a package that is only 8mm thick and weighs 120 grams.
If this device lives up to it's manufacturers hopes then in my mind I think the Sony PSP just lost it's crown as the ideal mobile video device.
The product is promised in the next few weeks.
Summary
Apple seem to have done it again. Just when you can't imagine how else they can evolve the iPod range to keep it fresh, exciting and of course fashionable, they do just that!
All iPod images courtesy of Apple