Disney Storytime and Philips Hue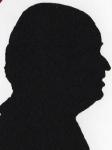 A while ago I told you about Philips Hue lights which change to any colour and intensity you want using an IOS App. Now a link up with Disney and various story books linked to a Philips Hue Mickey Mouse light that works in a similar way.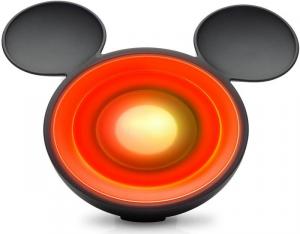 click image to enlarge
Mickey consists of a 13.5cm round face with a Philips Hue bulb fitted behind it in a sealed unit. His ears are plain black rubber and circular at 7cm across.
The rear of the fitting is red and angled top fit on a wall of fitment to be looking down at the child. The DC connection is hard wired into the back with a small inclusion in the base to let the wire track away a push in connector comes after 40cm so it can be disconnected by a parent. The rest of the lead ending in a small power brick is 1.5metres long.
This arrangement also works for a slightly older child as the last 1.5metres of lead can be removed meaning no power goes to Mickeys head.
There are a range of Philips Hue Apps to make the light do various things and as with all Hue lights any colour and intensity is possible so Mickey could also provide a low power night light.
The big link with this is various stories that work on IOS devices and the Hue light is incorporated so that the light changes colours while the stories are being read.
In theory the parent needs no input as the IOS device reads and the child listens and watches Mickey change colour.
As with the original Hue lights which are now available for those with ceiling mounted track lights you need a Bridge unit and this is provided in the Mickey package, the IOS device looks for the Bridge to make the connection.
The Bridge unit is 2cm thick and round at 9cm with power and Ethernet cables supplied to fit in the base of it.
The power lead is 1.5metres long ending in a standard 13amp plug while the supplied Ethernet cable is 1.8metres long.
The Disney Story Books displayed horizontally on my iPod Touch. You get three books – more can be purchased – Tangled Rapunzel's Story. Always Time For A Laught from Monsters Inc. and Starry Night from Toy Story. This in itself is a Free App and you have the option to have the stories read top you or to be able to read them for yourself.
At this point it may be the time to remind you not to let your child have your PIN code or you might find that the reading library is considerably increased as or course will your credit card bill.
This is a nice if somewhat expensive way to get your child's attention as the Mickey light is very clever but as with my original review of the Hue lights they are rather pricey. The free Disney App can be downloaded and tried for Free so you get a chance to see if the stories are suitable but the Mickey head and the light it omits really adds to the experience.
The Philips Hue StoryLight Starter Kit is available for £99.95 from Apple stores.
http://store.apple.com/uk/product/HE289B/A/philips-disney-friends-of-hue-storylight?find=story