Tefal Clipso Pressure Cooker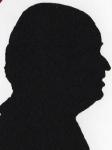 Review controls
If like me you are of mature years you will remember pressure cookers and I am sure today such objects would be illegal. This however is very unlike what was on offer it is just a rapid method of one pot cooking.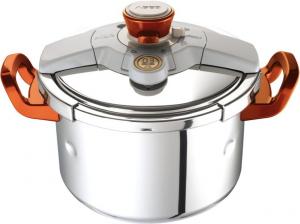 click image to enlarge
It still works on pressure but the change of it exploding and depositing burning liquid all over your kitchen and you are all but nil. It has a very simple and foolproof locking mechanism. A very easy and safe method of removing the steam and should you need to move it while in use then it has two one click lock handles that remain cool.
It is 25cm tall to the top of the lid and 25cm across. The interior diameter is 22cm and the base diameter is 18cm. It comes with a vegetable basket to enable steaming and this drops in to a suspended position approximately 3.5cm above the bottom of the pan so whatever you place in it can be kept clear of the liquid and just cook in the steam.
My memory of a pressure cooker was that my grandmother made good tasting food from most unappetizing ingredients. How well living through two wars probably helped. I remember this object hissing away and of course it was only experience that stopped major accidents.
The difference now is that with a small timer attachment it decides when the heat has been reached and then it starts counting down. All you need to do is turn your cooker down when steam emerges in a constant stream. Yes you might need a couple of goes to get the amount you turn it down but just like cooking in a normal saucepan once it boils you should know how much to turn it down to get a rolling boil or a simmer, with this being a sealed unit these figures will probably need to be somewhat lower.
The timer unit is almost triangular and is 7cm from side to side and 5cm across and around 1.5cm deep. It fits on the lid and once you have set the length of cooking time (whole minutes only) up to 60 nothing happens and it will not until the temperature is reached at that point you turn down your cooker and the timer starts counting down. You can even remove the timer module and take it with you and move to another room should you wish. When the time is expired then an alarm will go off.
Looking at the lid with the timer unit in place facing you will see on the right three possible settings furthest away a picture of a chicken and this mode should be used for meat, fish and poultry. The centre setting shows a pod of peas and this should be used when the basket is inserted to allow steaming to help retain the vitamins in vegetables. The third setting showing steam issuing is exactly that the way to safely remove steam from the unit prior to opening.
Above this is the knob that locks and unlocks the cooker. Press the top firmly and the jaws clamp to the sides to seal it, this action also pushes an elongated button out of the side, press this to release the jaws.
There is a twenty eight page User Manual that explains everything in detail so even a novice user should be able to use Tefal Clipso Control+ safely. It has lots of illustrations as it walks you through your tasks if the next illustration does not look the same go back until it does.
There is also a forth eight page well illustrated book called 'Quick and easy pressure cooking with Jamie Oliver' It starts with eight pages of tables giving cooking times for a whole range of Vegetables, Fish, Meat, Poultry, Pasta, Rice, Cereals and Pulses. Each gives a quantity the amount of liquid and a cooking time. There are even sections for Desserts even to include Christmas pudding.
Finally the last thirty pages are recipes one side a full colour picture the other page has the ingredients and the method. I have tried several I think my favourite is Tomato pasta soup with rosemary, I doubt you will ever try packet or tinned soup again from choice.
Doing my Internet searches found the Clipso Control+ P41007 at a best price of £84.98 including delivery from the first link below.
www.electricshopping.com/shop/shop.do?pID=2879&cID=250