Kensington Stereo Dock for iPod.

Published 22 Dec 2006 Author
bigal
A cheaper and little less intrusive than other docks.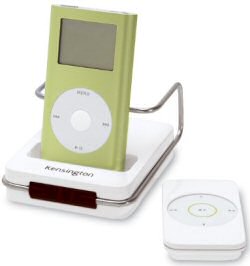 If you read my review of the "iwantit" IW300 iPod docking station, you will no doubt be wondering what the alternatives to having a substantial unit sitting by your stereo are.
The grandly named "Kensington" dock for iPods could be the answer.
The "Kenny" again comes only in white and could be described as minimalist, but no less effective. I use it in my living room where it sits unassumingly next to my Sky+ box and does not take up much space.
The Kenny will accept all iPod models (other than the Shuffle) and is about 3 inches square. However rather than have a number of sleeves to stop the iPod rocking about when docked the Kenny adopts a "railing" method whereby the iPod leans against a small silver tubular railing sat behind it. Rather nifty.
The Kenny also comes with a remote which lights up in a weird orange hue, but unfortunately this remote only allows control of playback and not menu functions and does not have independent control of the volume levels. The remote controls the volume level of the iPod itself so to get a decent level of volume you may have to use the volume controls of your amp.
The secret of the volume with the Kenny is to set your iPod volume to maximum before you plug it in to the dock and leave it at that.
Inputs are basic with one audio input and mains power (lead supplied.) I again replaced the supplied weedy looking lead with a Cambridge audio lead to improve performance.
The playback is OK, but not on a par with the IW300, basses are less punchy and trebles a littleless defined with the Kenny.
But don't get me wrong, the Kenny is a lovely little unit and would grace any living room without getting in the way.
The best bit about the Kensington though was the price.
Internet prices range from £41.99 down to the low £20,s. But Richer Sounds have them at £14.95 and if you are a VIP member of their store (as is yours truly) then £9.95 gets your iPod linked to your stereo. What have you to lose...