Pure Pocket DAB 1500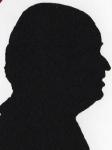 Review controls
A truly portable DAB radio that can run for the best part of the day on a single charge on it's built in battery. Now could this be a true portable DAB radio.
Buy Now
Pure Pocket DAB 1500
Available for £80.88 from Amazon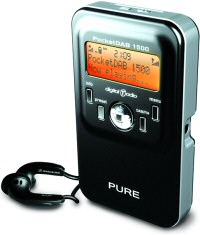 I have reviewed a couple of small DAB radios but they both used standard batteries. Now technology has improved, battery drain is less and above all the earpieces that form the aerial have improved and the unit is far more useable in a whole range of environments.
It is 11x6.5x2cm and weights less than 150grams. The centre on the right side is where the excellent Sennheiser earbuds fit. The centre on the left side is where the unit is charged, these are the only two inputs. The top has the power on/off slider and should it be required there is a hold button beside it should you place the unit in a pocket or purse. The face has four push buttons and the obligatory five position rocker to control the actions. Above these is a 4x1.8cm LCD display with an orange backlight, this works very well in a range of lighting conditions.
This is both a DAB and FM unit, after making sure there is charge in the battery unfurl the earbuds and then press and hold the on/off button for a few seconds, as this is the first switch on it will automatically scan for all available DAB stations, in my case this was 53. After the scan it will play by default the first named station. Now with 53 stations it can take a while to move either forward or back so the presets of your favourites are important and choosing them with this unit is simple and quick.
Should one of your favourites not broadcast on DAB then you can switch to FM and here selection of presets is even more important for any stations towards the top end of the FM band as by default it tunes to the low end and each point movement is two presses. A nice feature is once you have stored a favourite the frequency disappears and the centre of three lines of the display shows the station name. The top line shows the current time as well as battery state, reception strength and a couple of other things. The bottom line by default shows scrolling text issued by the station. Most of these features you might expect with DAB but here they work on FM as well.
A few facts there are twenty presets (ten each for DAB and FM) this is surely enough to cover most peoples favourite stations. The built in ChargePAK is stated to provide enough power for 24 hours of listening, I never got there but I certainly got into the high teens in several sessions. The menu allows you to set a whole raft of things including the type of environment and also the choice of five 'EQ' settings to suit yourself. If all that is not enough there is even a rather nice bass boost.
The sound quality was excellent throughout a range of conditions and while initially I was sceptical about a DAB radio run on batteries now I know it is usable. The main worry was always lack of play time available and when they used standard batteries the cost of replacement but with a day being the current standard this is no longer a worry. The other concern was with reception and now with improved technology you can use the PocketDAB 1500 out and about with good clear reception with a good range, I used it on buses and trains without any problems, tubes underground are still a problem but that is one you must expect, if you can't get a mobile phone signal then you are unlikely to get a radio signal. However I know of several places where most mobile phones fail to work but the PocketDAB still worked without problem.
Doing my Internet searches could not find a lot of places with this very new item in stock the best price was £80.88 inc P&P from the link below.
http://www.amazon.co.uk/Pure-Pocket-1500-Personal-Stereo/dp/B000HC2M5C
http://www.pure-digital.com/Products/Product.asp?Product=VL-60799&PageType=Intro