HomeMix CD J-1 mixing console

Published Apr 12, 2005 Author
petew
Review controls
For all those budding DJs out there the Home Mix CDJ-1 is a self contained 'portable' dual CD mixing console with some very advanced features.
According to the manufacturers blurb, this is a compact and powerful mixing console. Compact is of course a relative measure and for a generation getting to grips with iPods and 60Gbyte hard-disks that will fit in the palm of your hand, this is no compact device. To my mind it resembles the getto-blasters of my youth. There are various pictures around of smiling kids with one of these slung around their necks on the optional shoulder-strap, but I'm not sure the smiles would last for long! To my mind you need a table!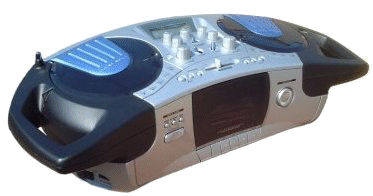 Size is of course no bad thing! The product manages to cram in a large number of features in a robust and stable format - a must if you really want to run your own party disco! As well as the core features that I'll get onto in a moment, the size of the the box has allowed the manufacturuers to provide some very good quality speakers, and the quality of sound wouldn't be possible with a smaller chassis.
The basic format of this device resembles, as I've said, a very large protable music player - into the frame it manages to cram a cassette deck, an FM radio and dual CD players and an array of easily reacheable controls on a central panel.
You can obviously use this gadget as a versatile music player. That is not of course the intention!
Basic DJing
The HomeMix CDJ-1 has everything you actually need to set up a simple disco - I think kids would love it. I'll concentrate on discos using the CD players, but obviously you could mix music in from your own tapes using the integral tape deck, or from the radio.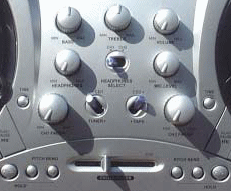 The top of the device can be thought of as being split into a left side and a right side, each being basically independent. A clear LCD shows you what is happening on each side. Obviously no good DJ would be seen dead without headphones and a mic and so inputs for these are provided to the side of the device. Unfortunately these only accepted the big stero jacks of old, so before trying these out I had to hunt around for a couple of adapters for the 3.5mm jacks in common use today.
Volume is controllable on each side of the device so you can match loud and soft music without starting your dancing public! A nice slide fader control alows you to switch the speakers from left CD to right and back again. The headphones can listen to either side independently, so as your publically play George Michael, you can be listening to and lining up Dido on the other side. Mixing the microphone in is again indepentently controlled.
My 10 year old was perfectly at home using the machine in this mode and loved her 'home disco'!
Beat Mixing
OK - you've mastered a very professional disco technique using the basic controls - now it's time to move onto the advanced stuff - "beat mixing". I read the manual and had a play, but to be honest I think it takes a lot more practice (and probably different music) to get the hang of this - so the theory......
As well as basic the fader, volume, tone and source controls you need to do your DJ impersonation, the CD J-1 has separate 'pitch' controls for each of the CDs (and tape). These allow you to increase or decrease the speed of either CD by +/- 10%. This doesn't sound a lot, but does have a huge difference when you listen to the sound.
The intention of these pitch controls isn't to make your favourite artiste sound like they've been breathing in from a helium filled balloon! As I understand it - the aim is to have two CDs with roughly the same beat. If you can get the beats of the two CDs in sync with one another you can do one of those very impressive seamless switches from one to the other. I just about managed it once I think! To do this of course you have to be listenning to both CDs while your audience listens to one. If the beats are slightly out of step you slow down or speed up the CD you are preparing to play until they are in step. As soon as they are in step you can slide over. Seemlessly.
Very clever!
Connecting to the rest of the world
The inbuilt speakers are good - but for anything other than you and a couple of mates - the volume isn't going to be good enough. Luckily the CD J-1 comes with an array of useful outputs allowing you to connect to external speakers and an amplifier. A 'send/return' set of connectors let your plug other audio equipment in as well (still got that old record deck?)
Summary
I like this product. I wish I'd had one when I was a kid instead of the two cassette decks that me and my mate used to team up with to play DJ. I can't think of anything this box doesn't do that I would have wanted (and it has a few I would probably have never used!).