Canon DC201 Camcorder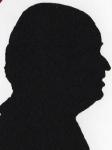 Like a lot of recent camcorders this records to mini (8cm) DVD's either DVD-R or DVD-RW. This is the lowest specified of three almost identical offerings but don't let that put you off.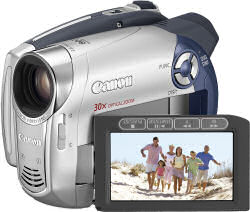 It seems strange to call a 30x optical zoom entry level but of the three in this grouping it is. I took both movie and still images with the Canon DC201 and was perfectly happy with both.
It is 13x8x4.5cm and it's weight is around 400grams. The recording method is not the old fashioned tape or by hard disc but by DVD's. It works with both 'R' and 'RW' DVD's. However this model can also support DVD-R DL (dual layer for added recording time).
As with all camcorders I know it assumes you are right handed as the hand strap is on the right side, your right thumb is then enabled to use either of the shutters for movie or still images. For really bright light there is a viewfinder but in normal conditions it is easier to use the TFT that can rotate through 270degrees. The TFT is widescreen at 6x3.5cm giving the 2.7inch diagonal measurement.
The lens is 2.6 to 78mm and as stated that is 30x optical zoom and providing you can hold the camcorder still the zoom works really well. For reasons best known to the camcorder manufacturers they insist on still quoting the optical + digital zoom capability in this case it's 800x. However this used to happen with digital cameras and thankfully now most only quote the optical zoom.
I found all the controls easy to use with the exception of the A/V out that is so well hidden behind a door that I did not know it was there until I looked at the manual. If I have a gripe it is with the microphones as they tend if anything to be too sensitive picking up noises that you may not want. The unit is almost silent in use with you really having to put your ear to it to hear it in action. This is due - so says the blurb - to DIGIC DV II.
With Dual Layer discs it is technically possible to store up to 108 minutes on a single disc. However I found that quality of recording was best using SD copying where a normal R or RW disc gives you 30 minutes.
The DC-201 has a technology called Quick Start that enables quick resumption of recording and indeed quick suspension of it. When pressed it blanks the TFT (saving battery) and a single further press of the Quick Start button allows you to continue where you left off. While on the subject even should you save and switch off the zoom stays at the point you last used it when you next switch on and for anyone mainly used to digital cameras - like me - this seems rather strange.
I normally mention movie mode when reviewing a digital camera so in fairness I mention that this can take images via a separate shutter but you also need to flip a switch from camcorder to still image. The images are a best of 1024x768 but remember a standard digital camera will never give you 30x optical zoom. The one drawback is that the images can only be printed from a computer once the DVD has been finalized unlike those stored on a 'card' that can be popped into a card reader moments after the image is taken.
So perhaps if you need this facility the DVD-RW variety of discs that can be finalized then reopened may suit you needs. Doing my testing I used DVD's from Verbatim and Traxdata.
Doing my Internet searches found the Canon DC201 at a best price of £201.80, including delivery from the first link below.
http://www.amazon.co.uk/gp/product/B000MRXGXO
http://www.canon.co.uk/For_Home/Product_Finder/Camcorders/DVD_Digital/dc201/index.asp