Canon Ixus 115HS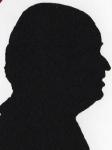 If I keep saying it long enough I might believe it, it's not pink, it's not pink it's purple. Here I am looking at one of Canons latest Ixus cameras, the 115HS. Its purple but I am very pleased to say that is only one of the colours it comes in.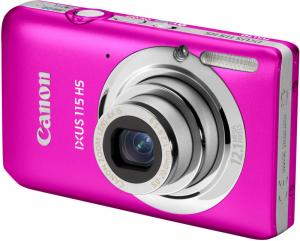 click image to enlarge
The Canon Ixus 115HS measures 10.5x5.5x1.5cm and weights 138grams. Mine was pink sorry purple. This full HD offering has 4x optical zoom.
The Ixus range has always been small and recently so few controls that you might think that it is a basic unit it certainly is not.
Let's start with the face the silvered lens surround dominates and the tiny 2.7x.4cm flash mounted above and to the side of the lens is only 1.7x.4cm but surprisingly – to me anyway – performed adequately in my range of tests.
The right side has a flip open door that hides HDMI and mini USB connections, further down that side is the wrist strap anchor point. The left side has nothing apart from reminding you that the camera has image stabilizing.
The base is where the anchor point for any tripod is located as well as the door that hides the solid battery and any SD card you may use.
The top has only three controls, a slider to adjust between Auto mode and a mode that gives you more control. Next a bar on/off button and the circular silvered shutter release that has wide angle/telephoto adjustment around it.
The back is dominated by the 6.7x4.7cm TFT with the only other controls to its right. These are a button to swap to movie mode, the ubiquitous five position joystick with its tasks well described in white and below that the menu button and finally a review button, between the two a small LED that flashes when the flash is charging.
Canon describe all their small cameras with the easy to remember 'L', 'M1', 'M2' and 640. This is 12MP, 6MP, 2MP or VGA.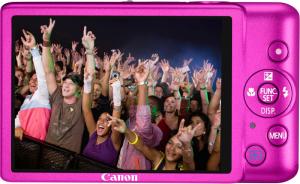 click image to enlarge
In movie mode you have 1920, 1280, 640 or 320 and most will know enough to work out the rest of the sizing.
When away from 'Auto' all the twenty five scene modes are available but only on a list type toggle where they are shown in a vertical line switching between them in bright light could well be a problem with so many.
The 5x20mm lens takes excellent images my only slight query is the width of field when in close proximity it is often difficult to get everyone in when you cannot always move back enough in an indoor setting scenario.
While I have printed A4 images from the M2 setting it is only barely enough and the M1 setting is enough for A3. I did like the super slow motion movie mode that enabled you to show slow motion replays very clearly, but of course this will take a lot of card space as the frames per second captured is rather large so or course is the overall size.
I have never reviewed a bad Ixus camera and this is no exception, my job is to mention any minor shortcomings as I have done, if I do not mention a certain feature it is probably because it does its job as it should.
Doing my Internet searches found the Canon Ixus 115HS at a best price of £143.90 from the first link below, should you want the pink/purple one it seems to be around £10 more expensive…
http://www.amazon.co.uk/gp/product/B004M8S21K?ie=UTF8&tag=gadge0a-21&linkCode=as2&camp=1634
http://www.canon.co.uk/For_Home/Product_Finder/Cameras/Digital_Camera/IXUS/IXUS_115_HS/