Canon MV960 Camcorder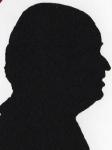 Review controls
I tend to see far more Digital Cameras than Camcorders however with more and more functions being available on either then maybe one is the solution for the other.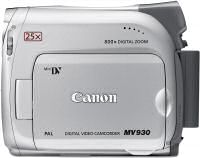 This Canon camcorder weights around 400grams and is 11x4.5x9cm when closed. The screen when open adds another 7.5cm to the 4.5cm width. The screen is itself is 6x3.5cm with four push buttons and a five position wheel below the TFT display that controls all the display movements.
The rear has the battery and the viewfinder, I found the latter a little small but it did have an adjustment underneath to allow focusing to your eye. All the other controls are on the right side. These include a palm back strap to give comfortable holding while shooting. In front of this is a three position wheel Play/Off/Camera and a shutter button to start/stop video capture.
Nearer the top are two rubber covers for optional SD card - to take still images - and the external connectors AV/miniUSB/DV. Above this on the shoulder of the unit are photo shutter to capture still images, the wide angle/telephoto rocker and two sliders the first to enable the more experienced user to made adjustments 'P' and 'Easy' the equivalent or Automatic on a still camera. The other is for DV cassette or SD card.
The unit comes with neither SD card or DV cassette, while I know all extras add to the cost anyone receiving this unit as a present would not be able to use it at all without these items. A short DV cartridge and low capacity SD card should add only a very few pounds to the cost. I am sure the reason is that resellers like to sell there own at inflated prices, rather like inkjet printers and USB cables. While on cables a short 1394 lead would be nice as most notebooks have four pin FireWire ports and that would enable movie clips to be downloaded and edited. This unit is supplied with a mini USB to USB lead to enable the contents of SD cards to be easily transferred.
First job is always to charge the solid battery by inserting the provided lead in the rear of the camera. After charging you should have around 90 minutes of shooting time. A higher capacity battery is an optional extra to give around 270 minutes. However I was less than impressed with the low battery warning as it goes from showing one bar short of full to dying within a few minutes.
The one big advantage of a camcorder is decent optical zoom this unit has 25x even a really good digital camera has only 10x. Of course a digital camera 'x' megapixel for images while this camcorder can only offer less than one. In still mode it is 640x480 or 1024x768 but balance that with the better zoom but unless you are ultra cool a tripod could be very useful.
This unit offers lots of special modes and loads of features that I have not even mentioned so I do advise you to check the links below to find out if this unit can do those special things you want. I give two links to the Canon UK site the first for general information and the second for the specifications page.
Doing my Internet searches found this at a best price of £256.98 including delivery from the first link, do remember by default no SD card or DV cartridge with this unit.
http://www.buyacamera.co.uk/xsearch.asp?RecId=CANVA270&pt=k
http://www.canon.co.uk/For_Home/Product_Finder/Camcorders/Digital/mv960/index.asp?ComponentID=336168&SourcePageID=26346#1
http://www.canon.co.uk/For_Home/Product_Finder/Camcorders/Digital/mv960/index.asp?specs=1