Aldi's premium DIY drill and impact driver kit

Review controls
The Workzone Titanium+ drill & driver kit forms part of Aldi's premium range of tools and accessories. It consists of the two most useful battery-powered power tools -- a hammer drill and an impact driver -- packed into a robust storage case so that everything is together when you want to use it.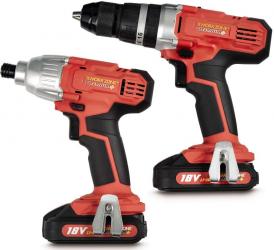 click image to enlarge
Both tools have enough power to more than meet most needs, sit nicely in one's hand, and are comfortable to use. They are also of a practical design so that, for example, they both have belt clips which can be fitted on either side to suit the LH or RH user.
The forward/reverse switches on both drill and driver are transverse sliders across the body. They both have a central safety lock position which, while preventing the device operating, still allows the LED work light to light. Their triggers work in a smooth and progressive manner.
The two 18V 1300mAh batteries have LED status indicators and incorporate a deep-discharge protection system so that, when the charge level falls below 35%, the tool cuts out and one needs to replace the battery with a fully charged one. Charging takes roughly one hour but, as the batteries are identical, one can swap the battery for a fully charged one from the other tool and just carry on working. Furthermore, as long as the batteries are fully charged before putting the kit "on the shelf" the low self-discharge rate of Li-ion cells will ensure that the tools are ready for use even a month or two later.
The hammer drill has a 13mm keyless chuck which operates effectively. The drill/screwdriver/impact modes of operation are selected by a ring just behind the chuck and the speed-range selector is recessed in the top of the drill's body to provide speed ranges are 0 - 350 and 0 - 1,250 rpm as well as 0 - 5,250 and 0 - 18,750 bpm for plain drill and hammer functions respectively. A second ring behind the chuck controls the torque settings for the screwdriver mode.
The slim, but useful, instruction booklet quotes maximum drilling capacities of 13, 25 and 8mm for steel, wood and masonry respectively.
Impact drivers are designed to have the force to drive home long screws which one would otherwise struggle with. This Workzone impact driver has a simple ¼ inch (6.35mm) hexagonal chuck. This is the standard size for screwdriver bits etc. but it really needs to be used with 50mm or longer bits or alternatively with an adapter/extension holder. The instruction manual, in view of the high torque generated by the driver, warns against the use of standard bits and advocates the use of the higher performance "impact-ready" bits. The driver has a no-load speed range of 0 - 2,200 rpm and an impact rate of 0 - 3,000 bpm with a quoted maximum torque of 150Nm. In a practical test it drove 3 inch no. 8 and 2inch no. 10 screws to their full depth in a baulk of timber with no difficulty and, similarly was able to extract some tight screws.
The kit's case is roughly 40 x 30 x 16cm in size and, being rectangular, can be readily stacked. It is made of strong red plastic and has carrying handles on front and top and it is lined, top and bottom, with heavy foam padding to prevent the two power tools and the charger from rattling around. In addition, there is a certain amount of free space that can be used to accommodate accessories that one might want to have to hand such as drill bits and ordinary and impact driver bits and so can be grabbed as and when needed.
As the instruction booklet points out, these tools have been designed for DIY use and are not suitable for commercial or heavy duty use. Hence, they should not be compared with such products at a far higher price. Nevertheless, they are well designed robust individual tools that will be able to cope with most DIY tasks and so well worth having in one's armoury. At £99.99 as one of Aldi's "Special buys, once they're gone they're gone" that will be in the company's stores on Thursday 26th November, the kit offers very good value for money and could well make someone a good Christmas present.
https://www.aldi.co.uk/en/specialbuys/thur-26-nov/product-detail/ps/p/18v-li-ion-drill-and-driver-kit/