FinePix S9500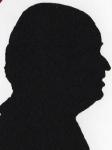 Review controls
I think of this as a semi professional digital camera however the price seems to put it in the amateur camp. Certainly making adjustments to zoom and focus on the lens stem is a big leap from point and shoot.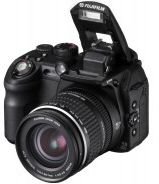 The dimensions are 12x13x9cm and the 13cm depth increases by up to 4.5cm when the 28-300mm lens is fully extended. This gives 10.7 to 1 optical zoom. In the short time I have had it I have taken the opportunity to take as many images as possible and I have only scratched the surface of what this can do.
There is a rather good built in flash but do not try taking images very close together when using it as it takes a while to recharge. There is a shoe fitting for an external unit and anyone serious about their hobby would probably use one.
The FinePix S9500 comes with 4 standard AA batteries and I suggest that you either get a couple of sets of high power rechargeable ones or always carry a spare set of AA with you as taking say a dozen images with flash can take you from no indication of any battery wear to total exhaustion.
You can either use the 3.5x2.8cm TFT display or the viewfinder to sight your images. Unlike a lot of cheaper digital units the eyepiece is slightly proud making sighting in bright conditions easier. The camera itself is setup for right handed use - as most are - but sighting using either eye is possible without digging your nose into the TFT. Four different display options are available either on the TFT or the viewfinder.
I counted 20 buttons (some with multiple uses) as well as the 12 position wheel for the immediately available modes. I will not try to even explain them, there is a manual and that and the odd month might start to get into some of the features.
Crazily it is supplied with only a 16MB XD card and that can be only three images at the top mode. This unit not only accepts XD cards but also Compact Flash and Micro Drives. I own a Micro Drive and took loads of images at a range of resolutions. The manual does warn you about prolonged shooting in movie mode (around 20 minutes) as the Micro Drive can become hot. Given that the average 16MB XD card could take only a few seconds worth of movie I think chalk and cheese is very apt.
There are seven different image modes from VGA to 9Megapixels that's 640x480 to 3488x2616. As always the higher the resolution the more likely to get camera shake especially when taking images in poor light without flash as the exposure time increases, there is of course a tripod anchor point on the base. Apart from JPEG this camera also supports CCD-RAW and a piece of supplied software can convert these images to TIFF.
One mode worth a special mention is the anti blur option and this really helps with moving images giving the impression that time has really been frozen. What is actually happening is that shutter speed is being speeded up say from a standard ISO 100 to ISO 800.
I really enjoyed using this unit, it stretched me, being able to manual focus and set the exact zoom quickly from the lens itself gives the left hand purpose. However not having a solid battery is a minus as is the miniscule 16MB XD card. I could probably use this unit for around three months and still discover more new features. I tended to salivate just reading the manual.
Doing my searches found it at as little as £380 but you will need to buy a larger card and at least two sets of high power rechargeable batteries.
http://www.ukdigitalcameras.co.uk/product_info.asp?prdID=3102
http://www.fujifilm.co.uk/digital/cameras/s9500/?lpage=/digital/cameras/range.php