A4 & A3 Inkjet Printing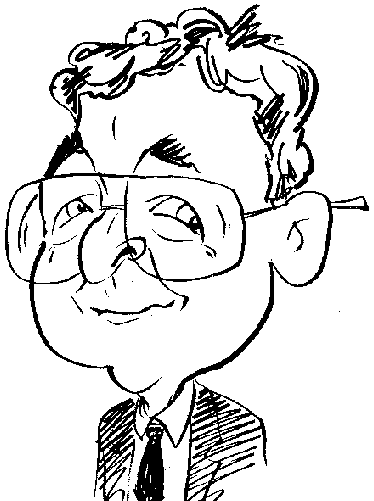 Review controls
As part of its new range of inkjet printer models, Brother has released the DCP-J4120DW. This particular model is an All-in-One device that includes A3 print capability and automatic 2-sided printing along with its basic print, scan and copy functionality.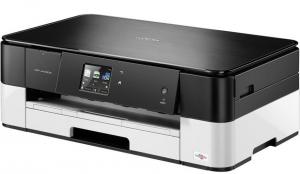 click image to enlarge
With a black layer mounted on top of a computer grey base, the J4120 has dimensions of 480 x 290 x 163mm (W x D x H) and weighs 8.1 Kg. Setting up this scanner and printer combo is relatively quick and straightforward. That is once you have got your head around the concept of paper being inserted into the 150-sheet capacity input tray in landscape orientation for documents printed in portrait mode.
Once power is fed to the J4120, instructions will be displayed on the unit's 6.8cm touch-screen mounted on the front of the product. You will probably need to adjust the angle at which the screen is displayed unless you fancy trying out as a contortionist as you try to read the instructions in the displays original position. These instructions involve selecting the appropriate language and inserting the four inkjet cartridges (black, cyan, yellow and magenta) into a concealed compartment on the front right corner. An initial cleaning process, taking several minutes, will be followed by setting the date and time before a test page is printed.
A supplied CD leads you through the process of integrating this All-in-One into your computer set up and installing the relevant drivers and software. There are options for this All-in-One to be set up for mobile, wireless network or USB connectivity. I opted for wireless network which gave me the choice of creating the initial link with or without a USB lead. The latter option required working through a series of menus displayed on the printer's screen before taking the WPS route for automatic linking. The appropriate drivers and software utilities will then be installed and a system reboot carried out.
The unit's control panel 6.8cm touch-screen provides feedback information and access to available options for tasks designated as Copy, Scan and Photos. To the right of the screen are touch sensitive buttons for Back, Home and Cancel. When in sleep mode, which automatically cuts in after a designated period, the Home button pulses slowly. Unlike the other buttons, the Cancel option, which appears when a task is in progress, is coloured a rather dramatic red which could give an unsuspecting user the idea that something needs attention when nothing could be further from the truth. Further to the right are the unit's power button and a Wi-Fi indicator.
To the left of the adjustable panel is a concealed compartment. This compartment contains a memory card slot and USB port for accessing content stored on various devices. Memory card support covers the usual Memory Stick, SD and MMC formats.
The front mounted paper input tray is used for A4 and smaller sizes. While the A4 paper is fed in landscape orientation, smaller sizes revert to the more common portrait orientation. A3 paper is fed from a manual paper feed at the rear of the printer. To access this slot you need to remove a cover and feed in the paper in portrait orientation which is not the easiest operation especially if the printer has been positioned near a wall.
In the usual arrangement of All-in-One devices, the A4 flatbed scanner is positioned on the top of the product. This scanner module uses CIS (Content Image Sensor) technology to produce scanners in resolutions of up to 1200 x 2400dpi optical and 19,200 x 19,200 dpi interpolated. The scanner is TWAIN and WIA compliant and can direct content to a range of destinations including e-mail, OCR, USB flash devices and memory cards. Scanning and printing an A4 page took 13 seconds in monochrome and 17 seconds for a colour copy.
The Brother driver supplied with this model has three print quality settings designated as Fast, Normal and Best. Running a series of test using a 101-word monochrome document and a 101-word document with a full colour small image using the three print settings produced the timings in the following table.
Brother DCP-J4120DW

| | Monochrome | Colour |
| --- | --- | --- |
| Fast | 24ppm | 23ppm |
| Normal | 16ppm | 9ppm |
| Best | 4ppm | 2ppm |
While you would probably want to keep the Fast setting for internal use, the other two settings produced documents you would be happy to share with others. A ten-page document, 3760 words, was printed in Duplex mode on five sheets of A4 paper in 90 seconds.
Switching to photo printing using a flash stick attached to the USB port revealed that the Brother print driver was faster with paper fed in landscape orientation. Full colour images of 10 x 15cm and 13 x 18cm, both printed in portrait orientation, took 3 min 59 sec and 4 min 29 sec respectively. A full colour A4 print, in landscape orientation, was delivered in 2 min 44 sec. Image quality was of a reasonable standard.
Brother offers both standard and high yield ink cartridges for this product. You should be able to pick up replacement standard cartridges for £11.50 for black and £7.40 for each colour with an expected 550 pages of output. High yield cartridges are available priced at £16 for black and £10.22 for each colour rated at 1200 pages. The DCP-J4120DW is currently priced at £143 although I have seen it advertised at considerably less – in one case at approximately half the listed price.