Epson Expressions Photo XP-750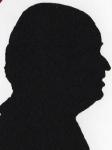 Review controls
This is a three in one device as it scans copies and prints. Scanning can be done without any intervention once you start the wizard, at the other extreme I have never seen so many choices for copying should you wish to use them.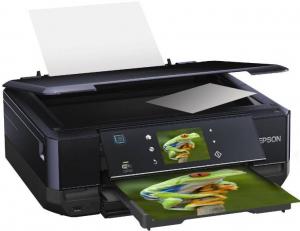 click image to enlarge
The Epson Expressions Photo XP-750 measures 38x32x12cm, at printing time you will need another 13cm in front of the unit to deliver the printed page face up on the automatically extending paper output tray. The touchscreen TFT also extends out to horizontal but that is within the extension of the paper output tray. So unlike some recent offerings from another manufacturer that requires you to open the output tray manually you leave this one closed until printing starts and it then occurs giving a period of around 15 seconds before pages start to print, of course some of this is buffering time.
This is a six ink offering which means you get better images when printing on photo paper and if you use a lot of one colour that is the only cartridge that you need to replace.
Power enters the unit back right and if you use USB to connect this enters back left.
At the front left bottom edge is a USB port to allow scanning to USB and printing from files and photos on the USB stick. Above this is door that hides SD and Compact Flash card ports that allow similar options to USB.
The whole of the central section 23x8cm of the front can be positioned anywhere between flat to the side to lifted to 90degrees to suit your viewing angle. At work time this will stick out horizontally 7cm from the front.
There are seven LEDs on this with the on/off touch button top left. The 7x5cm touchscreen is towards the centre. Once you have installed the software either from the CD or from the Internet the 'Home' screen displays two lines of icons, the top line is Copy, Print Photos and Scan. The slightly smaller second line is More Functions, Wi-Fi Setup and Setup with arrows at either end and pressing either one will show a Help icon.
The input tray is at the bottom and is small with a second input tray above for the occasions you print in smaller page sizes. The lower tray is stated to hold 100 sheets and the 'photo' tray 20 sheets, I think both figures would be hard to achieve.
For standard printing in normal mode it produced good sharp black copies. Timings however are in draft mode where printing was faster and nosier with the paper being slightly snatched and this did cause a couple of jams – easily rectified – the output was also a touch grey for non-bold type. Printing the nonsensical 200 word document came in at 20PPM. The more normal 1500 word document spread over four pages came in at 15.5PPM.
Printing on photo paper in best mode and borderless produced an A4 image in 186seconds, wonderful image, very sharp and crisp with excellent colour resolution and clarity.
As stated you can print from cards or sticks and you do have a good range of options without intervention of a PC.
I always found it easier to initiate a scan from the PC but again the output can be sent to stick or card and the TFT touchscreen on the device allows a preview feature. From pressing scan to a file being saved on the PC was 30 seconds, you of course can save to a range of formats including .PDF and scanning to email for a smaller overall attachment size.
Copying has a range of options but accepting the defaults for a standard copy produced a near identical colour copy in 30 seconds and a monochrome one in 15seconds.
The unit can also print onto printable CDs – don't try this with a standard CD as it will never dry – and it also prints other things like calendars etc. using various web features. It also supports automatic Duplex should you need it.
This is a nice photo printer, if you scan occasionally its great as it is for copying, basic printing is OK.
The Epson Expressions Photo XP-750 is available from the link below for £127.60 with free delivery.
http://www.amazon.co.uk/gp/product/B009L38Z86?ie=UTF8&tag=gadge0a-21&linkCode=as2&camp=1634
http://www.epson.co.uk/gb/en/viewcon/corporatesite/products/mainunits/specs/12224