Brother DCP-J4110DW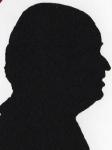 This is an All in One unit with a big plus in that paper is fed landscape even though in normal use it will still print in portrait. The major difference is that the unit's depth is somewhat less than when paper is stored in portrait.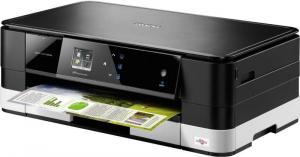 click image to enlarge
The Brother DCP-J4110DW measures 46x32x16cm and this includes whatever cables you connect to it, the only extra is space required to lift the scan lid.
If you require fax then other models in this range have it but for most home users this unit will complete their tasks at a lesser price.
The controls are all on the front on a panel that lift from the base by 45degrees very useful when looking from above. There is a small touch screen 3.5x3cm and to the right of this nine touch buttons all self explanatory. The only real button is the on/off to the right of these. To the left of the front panel is a drop down door behind which are card slots and a USB socket which you can print from or scan to.
Back left is the mains lead, if you use USB this fits into the machine via a track back right, but Wi-Fi is probably easier.
Having had 'some previous' with earlier Brother units I approach with some trepidation only after the first couple of pages print do I relax. In the past photo printing has taken a long time the phrase once said by a driving examiner about a young pupil whose reactions were slow when asked to perform an emergency stop seemed appropriate 'I did not need a stop watch but an egg timer'. However all now seems to have changed and things seem okay.
So using my standard 200 word nonsensical document printed 'x' times and disregarding the first and last page came in at 14PPM. A more normal 1500 word document spread over four pages came in at 12PPM both had a good depth of black and were quite acceptable for 'fast' printing. The other modes are 'Normal' and 'Best'.
A4 borderless printing on best paper using the manual page feed worked without problem and the 204 seconds it took was within the acceptable range. Print quality was fine if perhaps a little milky but you can have a vivid mode if you think that is suitable.
Copying from the unit does not require the PC to be connected and you have reduction and enlargement as well as tweaking the contrast. A monochrome A4 copy was produced in 10 seconds with a colour one taking 20 seconds.
You can initiate scanning from the unit of perhaps more easily from the PC using the Brother CC4 software that is installed during the initial process. This can be used to hold your hand for the novice or just sit in the background for those who have a package they prefer already. If you do use this software all options are available to get the best image.
I used it both as a USB connected unit which is a little fiddly as you need a good length of USB cable as the connection is right in the heart of the machine, the Wi-Fi connection is a lot more straightforward and the probably no go black colour of it means it can be stored in a cupboard or behind a sofa to avoid the wrath of the lounge police.
Should you get any paper jams the touch screen prompts tell you exactly where the problem is and how to clear it. I liked the landscape paper feed an idea I am sure other manufacturers will quickly copy to save depth. The next time I get a Brother unit in to review I shall still be apprehensive but less so than I was with this one.
The Brother DCP-J4110DW is available from the link below for £146.72 including delivery.
http://www.amazon.co.uk/gp/product/B00B0ID1NE?ie=UTF8&tag=gadge0a-21&linkCode=as2&camp=1634