Brother's Laser For The Home Or Office

A mono laser printer is the business-like tool for the small club, office or the busy person working from home who needs to send out a number of documents and who does not require colour. The Brother HL-2135W, which offers both USB and wireless connectivity, is targeted at this market.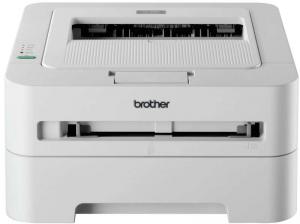 click image to enlarge
Roughly 14.5inches square and 7 inches high, the printer weighs about 15lb. It is finished in a light grey colour that will be attractive in an office and yet not likely to stick out like a sore thumb in the home even though it is a tad noisy when actually printing.
The printer can be connected either by USB cable (not supplied) or WiFi. However, even if one intends to use the latter, it is worth getting a cable as this is the recommended way of setting up the wireless connectivity. In practice, setting up and printing a test page was a straightforward.
The 250-sheet paper tray is loaded from the front and is set fully within the outline of the machine. Its paper guides can be set for different paper sizes ranging from the usual European A4 down to A6. In addition, there is a single-sheet feeder slot, with adjustable width guides, above the normal paper tray. As well as single sheets of paper, up to a maximum of 163gsm, this is also used for envelopes. In both cases, when the rear cover is opened, there is a straight through paper path which is quite effective in minimising paper curl.
The resolution can be set to 600 dpi or HQ1200 which the manual says is actually 2,400 x 600 dpi. When printing onto ordinary quality paper it was not easy to notice any difference when printing a graphic in 600 or HQ1200 mode. In fact, unless the default has been set to HQ, the printer automatically returns to 600 dpi, after doing a print in the HQ mode.
The printer is simple to use irrespective of whether it is printing just a single page, a selection or even double sided print. Here, on-screen guidance is provided on when and how, having printed the first sides (in practice, the second sides get printed first), to turn the pages over in order to print the other sides. I found this very useful as one does not always remember exactly what one has to do.
From its normal "Ready" state, the time to first print is less than 10 seconds or, when in "sleep" mode about 20 seconds. It then prints at about 20 pages per minute. When in Sleep mode the power consumption is less than 0.8W, as compared to about 60W when Ready and so provides a massive power saving. Although one can adjust the Sleep mode settings, Auto seemed perfectly satisfactory. Here, the printer decides itself, dependent on the interval between print jobs, how quickly to go to sleep.
This is a good small printer that, in terms of facilities and performance, should meet the needs of the small office or home user who wants the versatility and high print speed. Although it can be obtained at a lower price on Amazon, it is listed at £90 incl. VAT