A Budget Wireless Inkjet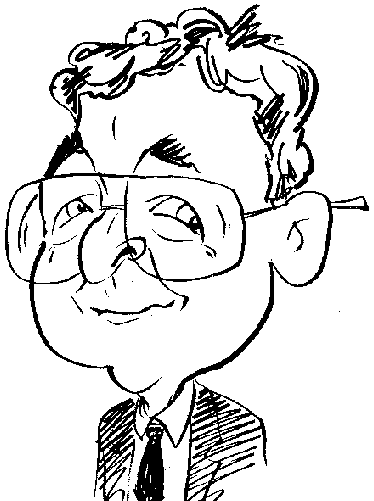 If you are looking for a budget priced All-in-One inkjet product then maybe this next offering might suit.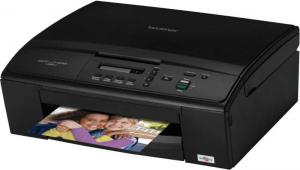 click image to enlarge
Adding to its range of all-in-one inkjet products, Brother has released the DCP-J140W model. This is the company's lowest priced wireless inkjet product. It has been designed for SOHO users who need to print from a range of devices whether a computer, smartphone or tablet requiring a free download of iPrint&Scan as well as scan and copy documents. This DCP-J140W all-in-one supports both USB and wireless connectivity.
Predominately matte black in colour, this box-shaped unit with a slightly curved top, has dimensions of 390 x 368 x 190mm (W x D x H) and a weight of 6.8kg. Mounted on the top of the unit is an A4 flatbed scanner that is capable of delivering a colour depth of 30-bit input and 24-bit output with an optical resolution of 1200 x 2400 dpi increasing to 19200 x 19200 dpi interpolated. Providing the base for the scanner is the inkjet printer unit.
Sloping slightly downwards from the scanner is the unit's control panel. Taking a central position on this panel is a 5cm LCD display providing menu and operational feedback. Various buttons relating to copy tasks are arranged beneath the LCD with menu, power, scan, start and stop positioned to the right of the display window. Doubling as the paper input and output is a removable tray at the front of the tray. The tray, which has a capacity of 100 A4 sheets, does feel rather flimsy but handled all the tasks that were required of it during the review process.
As usual with Brother inkjet printers, the compartment for the four inkjet cartridges is easily accessible from the front right corner of the unit. Simple flip open a doorway flap and insert each cartridge until you hear a click and you should be ready – at least that is what is meant to happen. However my first attempt at the simple task provided unsuccessful as the printer refused to acknowledge the presence of any of the four cartridges and requested that they should be re-inserted. When I followed this instruction, the problem immediately disappeared and I was able to print a test sheet.
When setting the supplied software you have a choice of languages as the necessary drivers and Brother's MFL-Pro Suite is added to your system. As mentioned earlier, the DCP-J140W gives you a choice of wireless or USB connectivity. A set-up procedure will lead you through the necessary steps to add this all-in-one to your system. When opting for wireless connectivity, the set-up procedure does prefer using a temporary USB connection. This will require you to open up the top of the unit as Brother always sites its USB port within the body of the printer. Once a wireless connection, using 802.11n technology, is established then you can remove the USB lead.
In common with other all-in-one devices, the DCP-J140W can act as a standalone photocopier without requiring any intervention from a computer. Documents placed on the scanner table can be scanned and sent straight to the printer. You can select from Fast, Normal or Best quality with a choice of paper type and size plus a user-defined number of copies. For any serious work you really need to stick with Best quality as the other two modes produce rather washed-out graphics and text. An A4 colour document took 16 second to produce in Fast mode, increasing to 37 second in Normal mode and 90 seconds in the preferred Best option.
Brother has rated this all-in-one as being capable of printing 33ppm in monochrome and 27ppm in colour. Bearing in mind these figures, I ran my usual tests of printing out a 102-word document in monochrome and then with some colour and a small image using the four print qualities supported by this product's print driver. The results are shown in the table below.
Brother DCP-J140W Print Speeds

Fast

Normal

High

Best

Monochrome

28

12.5

8.5

4.25

Colour

27

10

6.25

2.75
I would not recommend the Fast mode for anything other than editing purposes as the results was rather faint. The other modes would be fine depending upon the importance you place on the document. Best quality does produce near-laser print quality.
The Brother print driver also contains an option to print multiple pages on a single side of paper. I tested this feature using the four print modes with a 2600-word document using the 4 pages to a side option. The times to print the four pages to a single side are listed below. My comments regarding the above print qualities apply here as well.
Printing Four Pages to a Single Side of Paper

Fast

Normal

High

Best

2600-words

5 seconds

15 seconds

20 seconds

64 seconds
It took the printer 39 seconds to produce a 10 x 15cm full colour, borderless image print and 104 seconds for an A4 print. Image quality in both cases was of a reasonable standard. The 10 x 15cm print was not completed ejected which meant I had to feel for it with my fingers.
While not an outstanding candidate, the Brother DCP-J140W is a reasonable offering. It is easy to set up and it does have the advantage of easy access when you need to replace the various ink cartridges. You can purchase a special bundle of all four cartridges priced at £43.19 while the three colour cartridges are available at £10.79 each with black costing £19.19. Expect to pay around £55 for this Brother all-in-one product.
http://www.brother.co.uk/g3.cfm/s_page/215760/s_level/36230/s_product/DCPJ140WZU1/searchkey/dcp-j140w