Epson WP-4525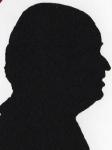 Review controls
The BETT (British Educational Technology Trail) has in the past proved to be a fruitful source of information and products ideal for the small business user, after all a school is certainly a business for those who attend.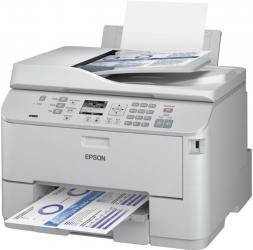 click image to enlarge
This was a little larger than a normal inkjet but it does have something that most home or small office machines do not have that is the ability to receive emails – yes it has its own email address - and print them to be precise you can send items including images from anywhere in the world – now that is a wide network – and it will print them out on receipt.
It is 45x44x33cm. The front edge has 26 buttons and three LED's as well as the ubiquitous joystick around the 5x3.7cm TFT. Also on the front towards the right side is a USB (input) socket, at the base is a good size (250 sheet) paper tray and it can be supplied – should you wish – with an extra 250 sheet tray. Paper is fed face down in the tray and delivered just above the tray face up. Special papers are fed from an upright back tray.
The rear of the unit has connections mains input on the left edge and a line on the right edge for USB, phone line and Ethernet.
Normally only a select few higher end printers give you the option of printing via email but this unit does and it means you can be ten mile or ten thousand miles away from the unit providing it and your router are turned on to send it items to print so it is not only faxes that can be waiting when you return to your home or office.
Scanning using the rather nice Epson Scan software can take as little as 15seconds per page for text documents. This piece of software has three modes, Home, Office and Professional. Three basic image types Colour, Greyscale and Black & white. The document source can be flatbed, ADF single sided or duplex or Auto Detect. Resolution can be set at anything between 50DPI and 1200DPI the default setting is 300DPI all from the front screen.
Copying which of course does not require any external connection from the unit takes around 17 seconds for a monochrome A4 copy and around 25seconds for a colour one. Both these figures are for a single copy using either the flatbed or ADF.
Printing using the fastest setting called 'Fast' in one setting on the front screen and 'Economy' in the lower level are 25PPM for the nonsensical 200 word document and only slightly slower at 22PPM for the more normal 1500 word document spread over four pages. While the documents were clear and easy to read they were grey.
While I have seen better photo prints I have also seen far worse. By default the basic install does not now install the excellent Epson Photo Print software so unless you have some favourite of your own I suggest you hunt it out. Printing colour pages on plain paper was fine one of my standard tests is the London tube map and to get this on an A4 page gives plenty of option to bleed both colour and text, neither happened.
The inks are easily accessible by a drop down front cover and they are a decent size at 13x7.5x2.5cm but of course that is the whole unit for each of the four cartridges. Each of the colours is stated to cover 2000 pages while the black covers 2400 pages.
I am told by an Epson technician that the remote printing is possible even if you do the initial connection via USB as I used Ethernet and the review period was somewhat short I cannot verify that myself. I can say that it works perfectly via Ethernet and not only for documents from a PC as I tried emailing it items from Android and Windows Phone devices all were waiting when I got in. Of course to do this both the router and WP-4525 must be on.
Doing my Internet searches found the Epson WP-4525 at a best price of £161.35 including free delivery.
http://www.amazon.co.uk/gp/product/B005H36P0O?ie=UTF8&tag=gadge0a-21&linkCode=as2&camp=1634
http://www.epson.co.uk/Store/Printers-and-All-in-Ones/Epson-WorkForce-Pro-WP-4525-DNF