A Business All-in-One Inkjet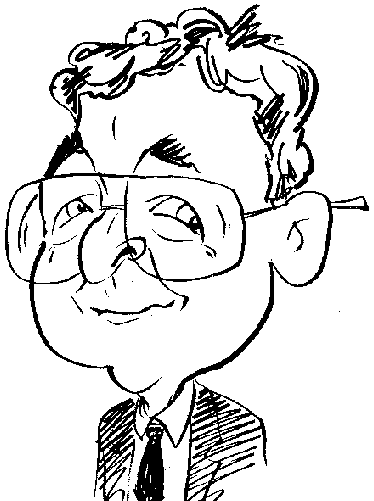 Review controls
My recent print jobs have been carried out by a new Epson multifunction device. Read my report.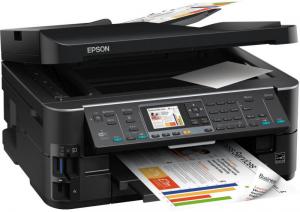 click image to enlarge
The Epson BX635FWD is a 4-in-1 multifunction device that Epson describes as being the ideal office printer. Providing print, copy, scan and fax capabilities, this product allows for USB, Ethernet or Wi-Fi connection to your computer system. You also get an ADF and duplex printing functionality. Recently this multifunction device has been taking over the various print, scan, copy and fax duties for my home office.
Removing the product from its packaging was somewhat of a struggle but once out of the box other matters ran more smoothly. This box shaped device, with its rounded corners, combines a matte and lacquered black colour scheme with the latter being limited to the sides of the scanner lid where finger smears should not be too much of an issue. Sitting on the workspace, this product with dimensions of 446 x 368 x 300mm (W x D x H), certainly looks impressive. The top of the unit incorporates a slope while a front-mounted flip-out control panel is well populated with various keys and buttons.
The sloping top of this multifunction device conceals an ADF feature that can hold up to 30 sheets of A4 paper for feeding to the scanner for photocopying. The A4 2400dpi flatbed scanner has an interface that includes adjustment to the brightness and contrast with the results being shown on the preview screen.
Protruding out from the base of the scanner module is the previously mentioned unit's main control panel that can be positioned at different angles to suit the individual user. Taking up an almost central position on this panel is a 6.3cm colour LCD screen that provides status feedback and on-screen prompts for carrying out various tasks including when a paper jam occurs. To the left of the screen are buttons for print and copy actions while the right side holds the telephonic number pad and other FAX options.
Both the enclosed 250-sheet paper input tray and open paper output slot, with an extendible support arm, are positioned below the control panel. Located on the left of the unit's front are memory card slots for xD, SD, MMC and Memory Stick formats plus a PictBridge connection. Power, Ethernet and USB connections are located at the rear of the unit.
Setting up the unit is relatively straightforward although I did encounter one minor problem. After removing the various strips of blue restraining tape (I counter 12 pieces), your first task should be to connect the supplied power cable and turn on the device. Following a request to select your language, country and whether to use daylight saving time or not, you can enter the current date and time. The next stage requires you to insert the four (black, cyan, magenta and yellow) ink cartridges into the belly of the unit.
Before linking the Epson device to your computer system you will need to install the supplied software. If my experience is anything to go by then you will need to set aside the best part of an hour to complete this stage. The software will download and install the modules you select. This will be followed by the process to connect the BX635FWD to your computer via your choice of connection. I opted for the Wi-Fi set up. The software initially failed to make a Wi-Fi connection but did offer to try again with the aid of a USB lead being attached between the device and the computer. This time my wireless network was detected and the link up was made with a test print run being carried out to ensure everything was working as it should be..
The BX635FWD supports the Epson Connect Printer Service facility whereby you can send documents by email direct to the printer module for them to be printed out. In order to take advantage of this facility, you will need to set up an account which is password protected. You will then be supplied with an email address, consisting of a series of random letters and numbers, which is linked to your Epson device. The process does work although I am not totally convinced as to its value. I know that an image I send to the printer via this method took an age to print. You will be sent an email to confirm the arrival of the original message and a second email to tell you the printer has been completed.
Printing in the more conventional fashion via content stored on your computer or memory card did produce one disappointing result. The basis print function offers you a choice of Fast or HQ (High Quality) functionality. Using my standard 101-word document with a small coloured image and some coloured text produced 23ppm. Text quality was reasonable but the colour looked washed out. Switching to the HQ mode using the same document for a 15-page print run took 9 minutes 48 seconds which equates to less than 2ppm. The quality was good but the wait was disappointing.
Along with the basic two print modes, this print driver offers you Duplex and 2-up printing plus a combination of the two modes. Duplex mode uses both sides of the paper while 2-up prints two pages on a single sheet. When testing these modes I used a monochrome text document consists of 2774 words that covered 5 pages. In Duplex mode this took 70 seconds which was reduced to 50 seconds when 2-up was added. Running 2-up on its own produced the document in 33 seconds. Photocopying a 6-page text document using the ADF required 105 seconds and a single A4 colour scan and print out was completed in 23 seconds.
When printing from a memory card you are shown the images available and make selections requiring the number of copies, paper size and type plus use features such as colour restoration. A 10 x 15cm print took 62 seconds while a full A4 print was produced in 185 seconds. Image quality was of a good standard.
Apart from the rather slow printing when sending an image via email or when using the HQ mode, I was impressed with the performance of the BX635FWD. The range of functionality offered by this product does come at a price. The cheapest price I have been able to find for this product is £252.92. Replacement cartridges are priced at £11.99 for each one or at £45.83 for a four-pack bundle.
http://www.epson.co.uk/Printers-and-All-In-Ones/Inkjet/Epson-Stylus-Office-BX635FWD