Canon's MG 5250 Versatile SOHO MFD

For many people the single function inkjet printer is giving way to the multi-function machine that, as well as printing, copies and scans. The Canon MG 5250 is the latest such device and is targeted at those who want a SoHo (small office/home office) machine that is easy to use and gives good all round results.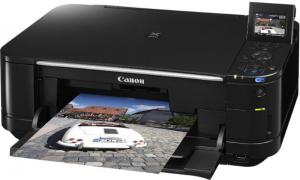 click image to enlarge
The MG5250 would not be out of place in either the home or office. Its case is in a trendy shiny black plastic, is box-shaped and, being 455 x 368 x 160mm with rounded corners does not take up an unreasonable amount of real estate. Both USB and 802.11b/g/n wireless connectivity are supported and the machine has a built-in power supply so that there is no power "brick" to cause added clutter.
The controls are on the top of the machine alongside the lift-up lid of the scanner and are easy and intuitive to use with the 6cm LCD screen swivelling upwards for easy viewing. This screen is also used for selecting images when printing from a memory card. On the front face, behind a hinged door just below the control panel, are the memory card reader slots. Below this door is the USB slot.
When printing (or copying) the paper output tray drops down automatically and projects forward by about 100mm. The main paper cassette, which can hold up to 150 sheets, is built into the machine and loaded from the front while the rear paper tray, which stands up almost vertically, folds flush into the body of the machine when not in use. Even though it will generally be used for photo or other special paper it also has a capacity of up to 150 sheets. In addition to these two paper trays there is also a separate carrier for direct printing on CDs etc. which can accommodate both standard and small size discs.
Although Canon claims print speeds of approximately 11 and 9.3 ipm for mono and colour printing respectively, a typical double-sided Word document took 48 seconds to print. Much of this, however, is due to the need to allow time for the ink on the first side to dry prior to printing the second side.
It uses 5 ink cartridges: cyan, magenta, yellow and black plus a second larger capacity black cartridge for document printing. It produces adequately crisp documents as well as good quality colour prints -- especially when using Canon's own Pro Platinum photo paper. If required, these prints can be borderless and up to A4 in size.
When scanning, the JPG or PDF file output can be sent to the computer, a memory card or a USB stick. In addition OCR software, albeit very basic, is provided. The machine performed satisfactorily in the useful test of overall performance by photocopying a good quality colour print onto photo paper. The degradation in quality was hardly noticeable except when the original and copy were side by side.
Overall, the MG5250 is a versatile MFD that produces good results and is convenient and easy to use and provides a range of facilities in a reasonably sized package. Although it has a SRP of £149, it can be found on Amazon for less than £100 which brings it within many people's budget.