A Specialised Printer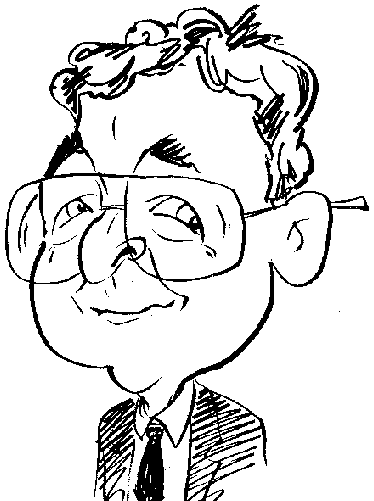 Review controls
I have been a regular user of a Dymo labelling device for many years. While fine for simple tasks, this device was unsuitable for more complicated labels. Fortunately Dymo manufacture a product that is capable of carrying out this type of task.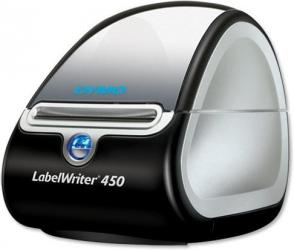 click image to enlarge
While it is possible to produce labels of various types using your main printer, it can sometimes be a little fiddly. You need to get the settings and positioning just right plus often your main printer, whether it is a laser or inkjet, can be busy performing other important jobs. An alternative solution would be to have a dedicated label printer on hand to carry out the task of running off address and other kinds of labels when required. One such device is the Dymo LabelWriter 450.
This review is based on the entry level model with speeds of up to 51 labels a minute. Measuring 187 x 125 x 132mm (D x W x H), the LabelWriter 450 adopts a hump-like shape in a combination of piano black and matt silver. Decorating the front of the printer is a slit opening through which printed labels appear and a button which doubles as the power LED light and form feed. Mains power and USB connections are located in a recessed bay on the base of the unit. Both mains power lead with adapter and USB cable are provided in the box.
However before connecting the LabelWriter 450 to a computer, either Windows or Mac platform, you will need to install the supplied software. Windows users will need to have Microsoft .NET on their system. If it is not present then it will be installed along with the rest of the software. At the conclusion of the installation you will be advised when to connect the LabelWriter 450 to the computer.
The LabelWriter 450 is neither a laser or inkjet printer. Instead it is a direct thermal printer which means it uses heat from the thermal print head to print out the labels on specially treated paper. A roll of labels suitable for printing addresses is supplied with the printer. This roll of labels needs to be mounted on a spool that is located within the bowels of the printer revealed by raising the top cover.
When you first launch the Dymo Label software you are offered the opportunity to register the product on-line. As part of this registration process you will be required to enter the printer's serial number which is located on the base of the unit. However in order to get access to this number you will have to remove the USB lead as it blocks your view of part of the number. By registering your product you will be granted a one-year extension to the existing two-year warranty.
The software's interface is divided into two vertical panes. On the left is a tabbed area allowing you to switch between Labels, Designer and Address Book views. The right pane displays a view of the currently selected label. Initially this will be blank until you enter details from the keyboard or click on an entry in your address book. The program supports various address books including its own CardScan and Microsoft Outlook. Options are available to switch between various layouts, apply bold, italic and underline attributes plus opt for a landscape or portrait orientation. When appropriate you can select the number of copies and then click on the large print button.
There is support for different types of labels including address, shipping, name badge and multipurpose with each category containing a number of layouts. You can either click on the label in the right pane or the layout option in the right panel to reveal the alternatives. Some customisation can be carried out from the Designer pane by adding items such as counter, date & time, barcode, image, circular text or a piece of clip art.
The first few labels I printed were marred by a blank strip running through the middle of the label. Fortunately you are supplied with an impregnated cleansing card which soon cleared the problem. Subsequent labels were printed correctly. I did have one slight criticism of the product which concerns the lack of an on/off switch. The only way to power down the device is to unplug it from the mains. Other than this, the LabelWriter 450 is a handy piece of kit that will prove invaluable for those who regularly require labels of different types.
Dymo have priced the LabelWriter 450 at £93.99. You will need to purchase the special labels required for this thermal printer. A roll of address labels, containing 260 labels, is priced at £22.18 while a roll of 220 name badge labels costs £19.73. There is also a starter pack which contains 7 rolls of labels and a spare spool priced at £92.53.