Brother A3 Injet MultiFunction MFC-6890CDW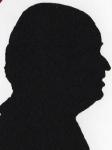 Review controls
I get the chance to look at a lot of A4 multi function machines but very few A3 ones often because of the size; those I do see are normally laser units here just for a change is an A3 ink jet offering from Brother.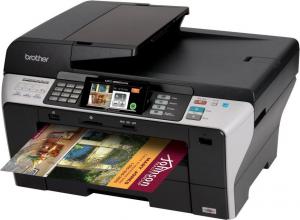 click image to enlarge
It is 53x47x30cm and it weights around 16kilos. While few would try to put it in the lounge if you have a large cupboard this is possible as it not only has USB and Ethernet but also Wireless. It is black with a grey trim around the front edge. It does support duplex printing but only for A4.
There are two trays so up to 400 sheets of paper can be accommodated. Not only does it have a flatbed but also a page feed the latter is quite clever as when it is closed it gives a nice flat surface on the top of the unit.
The power lead enters towards the back of the left side as does the phone lead. Both the Ethernet and USB connectors are inside the unit, the lead enters at the back and follows a channel to a point near the front.
All the other controls are on a panel on the front edge. A total of twenty seven buttons either side of the 10x3.7cm touch screen is described the same way as TV's using the diagonal measurement of 4.2inches.
Installation is not that quick, I chose basic (without PaperPort 11SE) and with the restart needed at the end this took just on 30 minutes and around 132MB of hard disc space. There are extras such as Presto a good document and image control package that can be installed optionally afterwards.
Let's start with scanning an A4 image scanned into a package on the PC using whatever program you prefer and the 'acquire' button takes around 18seconds for a black and white image. You can of course use the icon created in My Computer and I found that an A4 colour image using the page feed took around 35 seconds to scan and load.
My feelings about Fax are well known to anyone who regularly reads my reviews. Here you cannot turn the unit off without pulling the plug but there is a power save mode. The fax mode works both outgoing and incoming but I still feel few need it today with email attachments going straight to the person intended to receive them.
Copying can of course be done direct from the machine and with A3 available a lot more on the enlargement size can be achieved. A few of the programmed examples on the touchscreen are198% 10x15 to A4. 186% 10x15 to Letter. 142% A4 to A3 or A5 to A4. On the reduction side, 97% Letter to A4. 93% A4 to Letter. 83% Legal to A4. 69% A3 to A4 or A4 to A5 and 47% A4 to 10x15. Of course other amounts are possible very easily but it's nice to have the most popular available by one touch.
Printing normally needs the PC to be connected but it is possible to print direct from various card types and pen/stick drives in the three slots just under the front lip. However it is easier (and you have more choices) direct from the PC.
There are four print speeds Fast, Fast Normal, Normal and Fine. All but Fast give a reasonable black image that is crisp and sharp. The 'Fast' is grey and only good for checking. Of course all timings are done using 'Fast' and the nonsensical 200 word document comes in at 20PPM while the more normal 1500 word document spread over four pages is 20% slower at 16PPM. The 'Fast Normal' time for the 1500 word document from pressing print to the last page emerging was 50 seconds but that is real time including the dead time before printing and not the ignore first and last page method used by manufacturers.
Printing an A4 borderless image in best mode on photo paper is not quick (you are warned when you select borderless) and it takes 8 minutes and 34 seconds, the quality is however good and while it is slow that is around a third the time of an early A4 unit I reviewed a few years ago.
I give timings for A4 as there are lots of equivalent reviews to compare to of course A3 takes longer.
Doing my Internet searches found the Brother MFC-6890CDW at a best price of £314.67 including delivery from the first link below.
http://www.amazon.co.uk/gp/product/B0029YTCFO?ie=UTF8&tag=gadge0a-21&linkCode=as2&camp=1634
www.brother.co.uk/g3.cfm/s_page/166900/s_level/36220/s_product/MFC6890CDWZU1/s_detailType/specs