Samsung R580 Notebook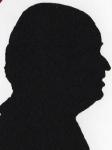 Review controls
For those who don't want black here I am looking at a subtle shade of red (dark wine) colour that will pass for black in poor light but still offer that something different in decent light, best of all the fingermarks don't show as they do with shiny black.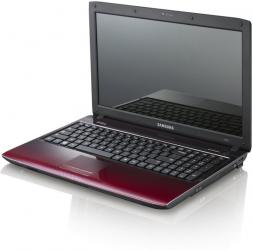 click image to enlarge
The Samsung R580 laptop measures 38x25x3cm and weights 2.465kilos. The left side has the Kensington Lock socket, D/C input, VGA outlet, Ethernet, HDMI, e-SATA and a USB socket, external microphone and earbud sockets and a PCI (express card) slot.
The front has an SD card slot. While the right side has the DVD multi optical drive and two further USB ports. The rear is clear as the screen slips over it. The base has an interesting feature a push button that lets you know the state of the battery without needing any connection. It is a series of five green LED's in 20% increments.
The viewable area of the screen is 34.5x19.5cm giving the diagonal imperial measurement of 15.6 inches. The screen itself can display up to 1366x768.
It has a 104 key keyboard and of course this includes a numeric keypad. Behind the keyboard are a pair of speakers and the 'on' button in a 5cm strip. In front of the keyboard is a 9cm strip. The trackpad is nearly invisible apart from four pinhole LED's at the corners, it is 13cm from the left and 17.5cm from the right side. In front of this is a single rocker strip for left and right mouse button movements. There are five small well marked LED's on the front edge.
In moderate use (some wireless and optical drive) I got around four hours of use, although the screen is less bright than when on mains power it is still acceptable and you really only notice when the change takes place.
It comes with the 64bit version of Windows 7 home premium. Two items of Cyber Link software. Microsoft Works as well as trials of Microsoft Office, Phoenix and McAfee software as well ten items of Samsung badged items which include a rather nice guide to using the notebook certainly a lot better than that which comes with most notebooks.
The processor is an Intel Core i3 330m 2.13GHz. It has four GB of RAM. nVIDIA external graphics with 512MB RAM. The screen has a built in 1.3MP web cam. The hard disc is split into two both 'C' and 'D' being 255GB in size.
The screen is clear and the image is sharp but as with most notebooks the screen can be a little shiny and reflective however the screen surround is matt and that means no nasty visible fingermarks, why don't other manufacturers learn.
One of the USB ports is live even when the notebook is off enabling you to charge a range of external devices such as phones from the notebooks battery. Another feature is that the touchpad is multi touch and those who master this technique say it's great, of course there are still those who always pack a mouse as they can't get to grips with even a basic touchpad.
I liked the touch of subdued colour of the unit, the battery state indication on the underside was an innovative feature, not so sure about the always on USB port as I only got four hours of life you could merrily charge several devices and find your notebook was flat. This feature does however mean one less or more less chargers to pack on a trip.
Doing my Internet searches found the Samsung R580 at a best price of £559.97 for a 3GB model, including free delivery from Amazom on the link below.
http://www.amazon.co.uk/gp/product/B003R7LFQ6?ie=UTF8&tag=gadge0a-21&linkCode=as2&camp=1634
I found the Samsung R580 available for $673.48 including delivery from Amazon on the first link below.
http://www.amazon.com/gp/product/B0030L1BVI?ie=UTF8&tag=gadge0a5-20&linkCode=as2&camp=1789
I found the Samsung R580 available for €679,29 including free delivery from Amazon on the first link below.
http://www.amazon.fr/gp/product/B0033PRX6S?ie=UTF8&tag=gadge04-21&linkCode=as2&camp=1642
http://www.samsung.com/uk/consumer/pc-peripherals/notebook-computers/performance/NP-R580-JS02UK/index.idx?pagetype=prd_detail