Kodak ESP7 All In One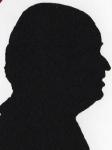 This is the third in their range of All In One devices, reviews of the ESP3 and ESP5 can be found via the search function above. This looks a little more professional by having the screen on the front edge of the unit.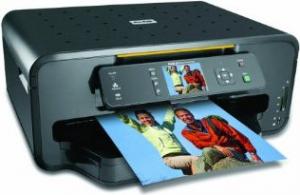 The Kodak ESP-7 measures 42x42x18cm when closed. If you pull the receiving tray out this adds 18cm to the middle figure and as it has an internal paper tray that is the only change for printing. To allow the landscape scanning tray to be lifted to 90degrees would add 30cm to the last figure. Both the power lead and USB cable insert towards the right side of the back but neither project more than the central part of the unit so they do not add to the dimensions.
If you read my reviews of the ESP3 and ESP5 you will see both had more than their fair share of paper jams. I have found a way of avoiding most of them with this unit by not letting the small internal paper tray get down to the last couple of sheets as that is when the jams occur. There is no way of knowing how many sheets are left apart from counting what you put in minus those you have used. Removing the rear is easier on this unit than the earlier models although I found most jams required lifting the top up – where you insert the cartridges – and then very carefully pulling, if the sheet tears then you really have problems.
You get the Kodak AIO Home Centre software that lets you do most things from the desktop, this takes around 20 seconds to load. Although a stub application loads on startup, you must have turned the All In One on first as otherwise you will get errors.
The front panel moves up 45degrees to allow for ease of viewing. There are 12 buttons but once you have turned the unit on everything can be done from the PC as far as scanning and printing are concerned. You can also copy from within Windows but for straightforward copying this can be done quicker from the unit itself that does not even require the PC to be connected.
The provided software has six options Scan Pictures and Documents, Copy Pictures, Print Pictures, Configure Settings, Tips and Projects Centre and Order Supplies. Kodak make a lot in the adverts about their lack of running costs.
For printing there are three options, Draft, Normal and Best. Doing my normal tests the 200 word document printed in (fastest) draft mode it printed 14PPM and the more normal 1500 word document spread over four pages printed just slightly slower at 13PPM. The text however was grey and only really okay for checking. It is not just Kodak but all printer manufacturers who claim unobtainable print speeds.
Printing an A4 borderless image on photo paper took just over 4minutes and 30seconds and the same for four images on a single sheet. They looked okay but had less depth of field than some other such units.
As a scanner you should be able to use an application of your choice or the software provided by Kodak. I used both and while the results were okay I have seen better. This really showed with text to be OCR'ed I have a number of letters that I tend to use on all such devices. The pristine examples were read without much problem but as soon as you introduce a fold or blur then you really do not get great results.
Copying was okay but not that fast at close to a minute for colour and around 40seconds for black.
I did not have the unit for long enough to work out exact costs per page that will not only require cartridges to be emptied but also I would have needed the exact documents the manufacturer uses to determine the % of coverage. The unit comes with a large colour cartridge and a smaller black unit.
I used this unit as a USB device but it can also work with Ethernet or Wireless and this must be considered when you decide value.
Doing my Internet searches found the Kodak ESP7 at a best price of £169.99 including free delivery from the first link below.
http://www.amazon.co.uk/gp/product/B001KLVMBE?ie=UTF8&tag=gadge0a-21&linkCode=as2&camp=1634
http://www.kodak.com/eknec/PageQuerier.jhtml?pq-path=13572&pq-locale=en_GB