Guitar and Guitar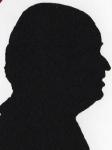 Here I am looking at two kids toys that will be very popular with younger kids – not quite so sure about their parents – one a tiny guitar with built in songs and the other another item a belt buckle giving guitar sounds from a mini amplifier this again comes with built in sounds. They are both reasonably priced.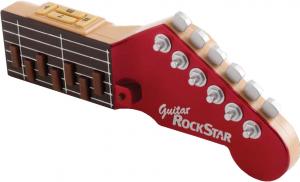 Guitar Rock Star from Tomy
When I first saw this my initial thought was toy, after using it I can see musical merit in it. You can play chords and therefore tunes and possibly just possibly the child might take music seriously.
It is 19.5cm long, 6.5cm wide (max) and 3.5cm deep. The back and sides are brown, the fret part is yellow and guitar head is blue (other colours are available). It requires two 'AAA' batteries that are not supplied. The back has a speaker and a three position switch off/low/high. There are also 3.5 jacks for input or output.
The fret board on the face has buttons from C to G then A and B while the side has four further buttons to give sharp, flat etc to any note you press on the face.
While you can start by playing along to any of the eight tunes built in the most famous is 'Wild Thing' it is to be hoped that with a little help music might be involved and maybe even the possibility of using the 'Free Play' mode to play and compose tunes.
To give a little more authenticity the end of the unit has an infra red beam that a finger or hand breaks and with a finger or fingers on various chords as well as the side buttons the hand placed through the infra red beam produces that chord played at whatever speed is required.
It may look a joke but it can and does produce music, there is a multi language instruction sheet and this includes a list of chord combinations and how to achieve them.
It should be available from most large stores and online, http://www.iwantoneofthose.com/guitar-rock-star/index.html at £14.95.
http://www.tomy.co.uk/products/guitar-rockstar-blue/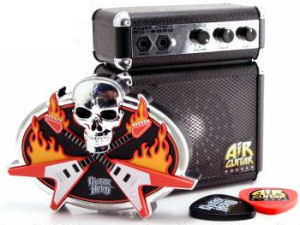 Guitar Hero - Air Guitar Rocker
This is certainly a toy as while most kids – young and old – enjoy air guitar this controls the tempo of what comes from the mini amp via the belt buckle.
The amp is 11cm across, 10cm tall and 6cm deep it is designed to fit on a belt or band of jeans etc. Next the 11.5x7x2cm belt buckle. There are two magnetic oversized guitar plectrums, a near 30cm 2.5mm lead that goes from the buckle to the amp and an eight sided instruction sheet.
First a pleasant surprise it comes with the required 3x'AA' batteries. The weight of the amp with batteries installed is 300grams.
After plugging the lead from the buckle into the amp switch on the amp, adjust the volume and then select the tune/riff – it comes with ten – now start playing along. Some are better with the plectrum used in both directions and other play better when used only in one direction. Apart from timing it teaches very little.
The mini amp can also be used as an input from a MP3 player using the 3.5mm socket. It was a good idea to separate the 2.5 and 3.5mm sockets.
Extra buckles can be purchased and each buckle comes with an Air Cartridge there are several to collect each has ten riffs on so it is possible to extend you library of tunes.
The eight sides of instructions include a playing tips skill level guide rated from one to five.
Available from Amazon for £17.33 including shipping on the following link:
http://www.amazon.co.uk/gp/product/B001CDFDPQ?ie=UTF8&tag=gadge0a-21&linkCode=as2&camp=1634
http://www.jadaclub.com/product_info.php?cPath=352&products_id=2150