A must for all telly addicts!

Published 29 Nov 2007 Author
petew
You've got a TV in the bedroom, the living room, the conservatory and even the kitchen. But the bathroom... Until now the last bastion of TV free living has finally fallen with the arrival of a waterproof television from Tech Vision.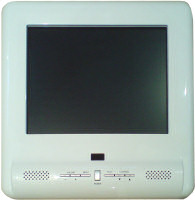 The 10.4"LCD screen of the TechVision TW104 is protected by a plastic case with front panel buttons for volume, channel and input selection. Other than that all TV functions are controlled by a separate water-proof remote control. Overall dimensions are 395x292x42mm (width x height x depth).
The TV is certified to IP56, which broadly speaking means it can be hit from water at any angle and will be fine. That means that while ideal for the bathroom, the TW104 is also equally at home in other damp environments including kitchens and even (potentially) the patio (!).
First of all though, some basics. For a start you're not going to want either high-voltage mains, or lots of trailing leads as you soak away in a bath. For this reason the TV is designed to be wall-mounted - with cabling and power to be provided through the wall. To make use of this product you are therefore going to need a bathroom with a suitable wall. Suitable of course really meaning how much you're willing to pay - you could for example have the wires threaded through an exterior cavity wall. The best time to consider such a product is when you're redecorating/refitting the bathroom.
In consideration of the lengths you'll be going to in order to have this in your bathroom TechVision have provided a DC power supply and A/V leads that are 3m in length. The idea is that external video sources and the power supply reside in the room next door.

The aerial is also fed through to the rear of the device.
The TV has a standard 4:3 aspect ratio and includes a DVB-T (FreeView) receiver - but no analogue TV receiver. The documentation hints that a good DVB signal is required, suggesting that an amplifier may be necessary. This was certainly my experience. While our aerial is not particularly great, most other FreeView products have produced a pretty complete range of channels. Connecting this to the TW104 resulted in only limited channels being available, notably missing most of the traditional BBC/ITV stations, although including channel 5(!). Be prepared for this and either make sure you have a very good signal, especially of you're sharing it with other receivers, or invest in an amplifier.
In use the video quality and sound quality were reasonable. The 640x480 resolution screen was bright and sound clear. I found the on-screen electronic programme guide (EPG) was a little less than intuitive and certainly not as easy to use as other products, but it does the job and gets easier with familiarity.
Being a new market and a new product range gives the TW104 a premium price-tag at around £600 so this is a product for those that really like the TV - or maybe just want to escape the kids and soak in a warm bath while watching The Street!
More details can be obtained from TechVisions own website on the following address :