Brother A3 Multifunction MFC-6490CW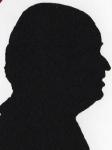 Say the word 'A3' and most immediately think too big or too heavy or probably both. Well it will not fit where I review A4 units – no surprise there – but it sits in the doorway to my office quite happily and it just needs an extension on the USB lead, I am no superman but I unpacked and moved it into place on my own.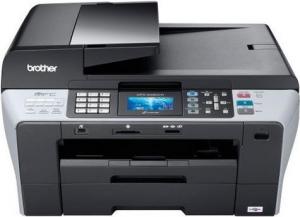 click image to enlarge
It is 53x48x30cm and it weights just over 15kilos. I happily reviewed it sitting on its own box but of course you would need to find a table or desk for a permanent solution.
It can scan, copy print and fax. Because of the latter it does not have an on/off switch just a power save button. However during my test period I did remove the mains plug during periods when I would not be using it.
I see Brother advertise it as an A3 high speed compact multi function printer and I certainly would not disagree.
There are a total of 35 buttons along the front edge of the unit split either side of an 8x3 display. The display can be tilted forward by around 25 degrees from the rear to get a better viewing angle dependant on where the unit is placed.
Connection can be by Ethernet, Wireless or USB. The power lead is inserted on the left side near the back. Ethernet and USB are both inserted inside the unit and care should be taken as the two sockets are beside each other, the lead is then tracked along a groove and exited at the back right of the unit.
It is a four ink offering and the actual cartridges are easy to install and of a decent size.
This unit comes as standard with two paper trays tray one has a capacity of 150 sheets and tray two 250 sheets. Either can take a range of media sizes but certain media types will only go in one of the trays, this however is well documented.
As this is an inkjet unit the claimed print speeds are unachievable. 'Up to 35PPM monochrome' and 'Up to 25PPM colour'. I am assuming that these claims are for A4. The best I got was 17 pages a minute for the nonsensical 200 word document and 13 pages a minute for the 1500 word document that is spread over four sheets. There are four modes Fast, Fast Normal, Normal and Fine, the tests were conducted in fast mode. The output was grey and really only good enough for checking, other modes were of course slower but the text quality was crisp and sharp and of course black.
An A4 borderless image printed on photo paper in fine mode (1200x600) took 22 minutes. You are warned first when you select 'borderless' and then when you go to 'fine' mode that this will take a long time. The quality was good but while speed is not that important to me with photo printing I do however think anything over five minutes is slow.
Copying does not require the PC to be turned on (or even connected) and while it can copy in monochrome or colour up to A3 (very useful sometimes) my tests were on a standard A4 letter in colour it took 55seconds and monochrome 28seconds, both tests were using the default settings. You can however reduce/enlarge from the machine.
Scanning can be done from the flatbed or from the ADF (auto document feeder) that can work with up to 50 pages. Results were fine and the supplied OCR software produced good results.
This review started with the 6690 model (no fax) but it did have touch screen controls, shortly after my review started it developed a fault and so I was sent the 6490. If you need fax this has six one touch buttons and up to 100 easy recall numbers and unstored numbers are also easy to dial.
It's not heavy, it's not big and it's not fast, the first two are compliments.
Doing my Internet searches found the Brother MFC-6490CW at a best price of £227.70 from the link below and this includes free delivery as the item weights 22 kilos in its box that is important.
http://www.printerbase.co.uk/acatalog/brother-mfc6490cw.php?gclid=CLi0wpOI3pcCFcsa3godrFOJCQ
http://www.brother.co.uk/g3.cfm/s_page/166900/s_level/36220/s_product/MFC6490CWZU1