HP Photosmart C6180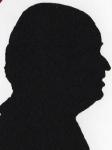 Review controls
This is a MFU (multi function unit) as not only can it copy, scan and print but should you require it then it can also send and receive faxes.
Buy Now
HP Photsmart C6180
£170.19 from

£178.99 from DABs


only £184.99 from PC World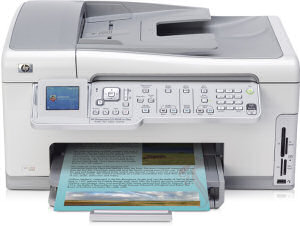 The HP PhotoSmart C6180 is cream with grey trimmings and as such may just creep into a lounge. It's dimensions are 44x33x23cm and it weights just over ten kilos. I would describe this as an office machine and as such it is fast but on the other side of the scales it is not cheap.
The units controls are on a sloping front edge - 45% below horizontal - and the 5x3.5cm colour display is hinged on the bottom edge enabling it to go up to vertical to ensure a good viewing angle in all lights. To the right of this are a total of 39 buttons arranged in five sections for the various tasks that the machine can perform. I suspect even a novice would be able to use it without any problem.
On the front right side are four card slots compact flash/micro drive, SD/MMC, memory Stick/Duo and XD. There is also a Pict Bridge slot for direct printing from your camera.
Firstly lets cover the printing angle, as stated it is quick. Printing the ubiquitous 200 word document it produces pages at 24 per minute. Printing a more normal 1500 word document spread over four pages it still comes in at 18 per minute. This is in 'Fast / Economical mode but unlike some other printer manufacturers the output is still sharp and black. The printer does spit pages out a little but at just over 2seconds a page this is necessarily, it is reasonably noisy but not excessively so.
Printing A4 pages on photo paper it is amazingly fast. This is a six ink printer, black, yellow and two shades each of red and blue. Accepting the default settings using the supplied Photosmart Premier software it prints an A4 page borderless in 102 seconds. If you disregard the thinking time when the image is first sent it's actual printing time is only 84seconds. Output is good. It takes only a few seconds longer to print four near 15x10cm images on the A4 page.
As a scanner you have both flatbed and page scanning, again using the software provided 'HP Solutions Centre' a full A4 page can be scanned and OCR'ed in around 45 seconds. This is the same time whichever method you use.
Copying can be done within Windows where the range of options is slightly greater and slightly easier to implement. However this can copy in black or colour without the PC being switched on or even connected. A black copy takes around 40 seconds while a colour one takes 60 seconds.
Faxing needs a little extra time to setup from the program installation but like the whole install you just follow the prompts. Around fifteen minutes should complete everything on a reasonably recent PC. But the install is by no means intervention free I counted seven 'enters' needed to accept defaults before you plug the USB lead into it. Then another before the install is completed (two if you install the fax software).
Now onto my only real worry about this unit the paper tray is tiny - stated at 100 sheets - but I only ever got around 60 in it face down. Just above this is a 15x10cm tray for photo images and this just needs to be pushed back when you want to use it. Printed images are delivered face up on a shelf just above these two trays.
There are four card slots compact flash/micro drive, SD/MMC, memory Stick/Duo and XD. There is also a Pict Bridge slot for direct printing from your camera.
Doing my Internet searches found the HP PhotoSmart C6180 at a best price of £166.95 including delivery from the first link below.
http://www.pcworld.co.uk/product.php?sku=086222&camp_id=GadgetSpeak
http://h10010.www1.hp.com/wwpc/uk/en/ho/WF06a/5043-5527-7369133-7369133-12715392-12715608.html