HP Officejet 4315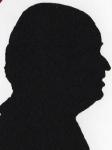 Review controls
In shape rather like the 4355 (published 21/7/06) however it does not have the phone handset. In fact several things are a poor comparison.
Buy Now
HP Officejet 4315
£49.99 from PC World

£51.68 from DABs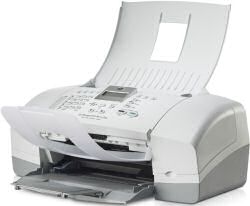 When closed the HP Officejet 4315 is 40x19x15cm. Add paper and open the various shelves to allow copying and the figures are vastly different at 40x34x37cm. I found it weighed around 3.8kilos. Paper is stored flat in the base and once printed it is delivered face up on top of this.
Like the 4355 this is a page feed scanner and while this works well it does mean that anything in a book or magazine cannot be copied. You can copy in black or colour the latter of course takes longer, in any case you would not buy this unit if you wanted to copy a lot of pages. However for the odd page just turning this unit on and pressing copy is a lot less pain than having to boot a PC.
Installation of the software is probably around 30 minutes and can take up to around 750MB of hard disc space. You do get some rather nice software that enables things like scanning to email that allows the size of image to be reduced to more manageable sizes.
Viewing scanned pages on the PC produced no surprises and providing you give a decent original the copy viewed on the PC should also be acceptable. This of course also applies to the OCR output, give a decent copy without strange symbols and you probably get a page in Word or whatever your word processor that has the same content as the original, however if the original is poor - creased for example - you may need some editing.
This is strangely listed as a Business Machine, it is rated to receive a fax page in three seconds and can store up to 200 pages on the system.
Printing is perhaps always the largest user of a product and this is perhaps the weakest link of this unit. I am not a speed freak, what matters to me is quality. Printing the 200 word document beloved of all timings produced 7PPM in normal mode, quite acceptable and the same in 'fast draft' came out at 16PPM quality wise still black and readable but it was noisy and the paper is snatched. Printing the more normal 1500 word document spread over four pages again produced 12PPM perfectly acceptable to me, however the stated input tray maximum of 100 pages I think is optimistic.
Now as a photo printer this would only be an emergency stopgap. It cannot print A4 borderless and while it claims to print 15x10 borderless it can only do so on sheets with the selvedged edge. I found images printed rather dark, while this is only a two cartridge four ink offering I have seen far better output from other printers with the same two cartridge setup.
As an Office Machine there is probably less requirement for printing on photo paper but if it can do it, I must test it. Also it was rather slow - in comparison to other recent units from HP - at around 6 minutes for an A4 bordered page or for four 9x13cm images printed bordered on an A4 page.
I see a number of HP units and while this is cheap for a Business Machine, I do not see this as anything but an emergency backup. The capacity of the cartridges is small and that makes printing expensive. Not being able to print pages from a book or magazine is another drawback. Doing my searches found it at a best price of £49.99 from the link below.
http://www.pcworld.co.uk/product.php?sku=909867

http://h10010.www1.hp.com/wwpc/uk/en/sm/WF06b/5043-5527-5563-5563-358435-12207166-45273831.html