Canon LBP 5000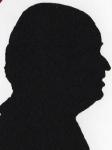 I think this is the first colour laser printer that has fitted in the review space between my two PC's, all the inkjets and multi functions fit there as do most mono lasers but unit now colour lasers sit in the office doorway.
The unit is 38x32x39cm and while you would not want to walk a mile holding it moving it from one place to another is something any normal adult should be able to do.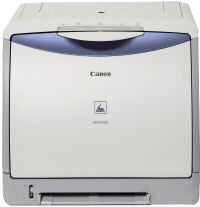 Canon LBP 5000
The front has five LED's while the rear has connection points for network or USB cables the power input and on/off switch. So no display and it entirely relies on the LED's or Windows to tell you of any problems.
The software supplied is installed first and as with most modern printers you only connect the USB or network cable when instructed by the installation. It was stated to need 120MB for the printer driver and manual, the actual space taken on my hard disc was 138MB. Total install took around five minutes.
Pressing options once you have selected print for a document or image produces a four tab window. Page Setup produces all the normal options including the ability to print up to 16 pages per sheet, I tend to think more than four is likely to affect your eyesight. The finishing tab allows you to swap printing orientation and or the binding edge. Paper Source allows you to select a different source for the first page - ideal for letterheads, to print ?auto' ?tray' or ?manual'. I found that if you left it on auto and then inserted something in the manual feed you were just asked to confirm on screen that you wished to print from the manual feed. The final tab is Quality that allows manual colour settings but has three options, General, Photos or Presentation Documents.
When printing the screen within Windows keeps you up to date with progress and even gives a little ting when printing is finished.
You can read the claimed print speeds from the link below, in this case I tended to exceed those given when printing colour documents. From pressing print the first page out takes 20 seconds regardless of colour or black. After that you get 6PPM for colour text and 8PPM for black text.
Printing my 145 page database - 42 rows and three columns per page - 4 up came out at 8PPM consistently over the 37 pages.
As a rule I do not print multiple copies of images but these tended to print at around 3PPM after the first page out. So A4 images (not borderless) at 3PPM and the colours were true to the image.
So far all good news however when you switch on the initialization and calibration will take 3 minutes. Switch off even for a minute or so and the same 3 minutes of wait will be required.
I would suggest printing images on good quality 80gram or better paper. Text is fine on a range of weights and types of paper, during my tests I never had a single paper jam and given the range and variety of papers I mix this is excellent.
Yes for some the lack of software to count pages used and other housekeeping tasks will be a pain. However for home or small office having to use a PC to give you messages will not be a problem, best of all the price is very reasonable. DABs have it for £155 including delivery see link below.
http://www.dabs.com/productview.aspx?Quicklinx=41QV

http://www.canon.co.uk/For_Home/Product_Finder/Printers/Laser_Beam/LaserBase_LBP5000