Canon TS9155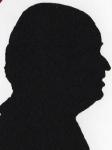 While I have seen All In One units in both grey and black colours this is a first for me, a black unit with a red top, before you ask it's not my blood. While even if it has a CD to make installation easy it refuses to use it and downloads which could be a problem for those with a poor Internet connection.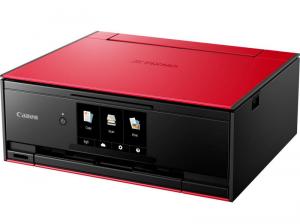 click image to enlarge
Downloading and installing the drivers and basic software took 6 minutes and just under 400MB of hard disc space on my Windows 7 system.
As seems normal on most Canon units I review, both the USB and power input are back left of the unit.
This is a six ink offering. The last statement should tell you this is not a unit you would buy to print emails and documents but a photographic printer.
It does have the normal Canon sit up vertical back tray and a small paper input tray under the paper outlet tray but around 20 sheets is all I felt confident in placing in it.
The large touch display makes it easy to implement Scanning, Copying and even Printing from the unit, although the last named is only for SD cards connected to it.
The display is 11x6cm in the centre of a lift up flap that is 38x8cm the only button on it is to the left of the display and this is on/off. Each time you turn off you are asked if you wish to have it pull in the output tray. It would be nice if it could remember your answer.
Every time you put paper in the input tray you have to tell it what you have inserted this is quite acceptable to me as this means it knows what area is printable.
Printing an A4 page borderless in 'Best' mode takes 135seconds, an A5 page borderless around 45 seconds. The quality as you would expect from a six ink unit is rather good.
While this is not a unit to purchase for text printing my tests produced a four page document in 50 seconds in draft mode, this however is a very good draft mode at least equivalent to standard mode in most units.
I found scanning quick and efficient and the 'scanning for email' even opens the email package on your PC with the attachment in place.
Copying has the ability to enlarge or reduce the original size.
As with most recent units if you connect via Wi-Fi rather than USB you can print direct from the Cloud and also from your SmartPhone.
Searching Amazon currently the price is £274.99 including delivery while the Canon store has it for £259.99.