Canon Pixma TR 8550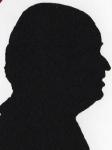 This is a four in one unit as it prints, scans, copies and for those who still use it faxes. However for those wanting to use it via Wi-Fi you can print from any mobile device as well as direct from an SD Card so it's very versatile.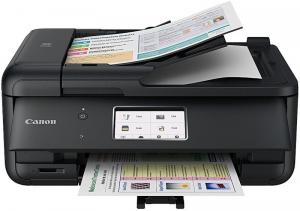 click image to enlarge
The Canon Pixma TR 855 measures 43x43x18cm, the last figure is on the left as this is where the page feed mechanism is it is only 14cm tall at the right side. The dimensions given include the 39x8cm front display shelf being raised from vertical (closed) to horizontal, it can be at any angle in between to suit your viewing angle of the 10.5x6cm display mounted in the centre of it. The only other control on it is the on/off button with its LED mounted to the left of the display.
The USB, Ethernet and phone connections as well as the two pin mains lead all connect back left.
The main tray – any size of paper up to A4 – is bottom front with the SD card slot to its left. The traditional 'sit up' back paper entry is top back and this also accepts all sizes of paper up to A4.
It comes with five inks cyan, magenta, blue, and two different blacks, the normal text black in a slightly larger cartridge.
Most earlier 3 in 1 or 4 in 1 units were extremely limited to the amount they could print when not connected to a PC but I can see the time when the PC as such is redundant as the unit itself has more power, you have always been able to scan to external memory providing the unit has either a USB or SD card slot, copying of course has always been autonomous, now with a Wi-Fi connection and something like the Canon App downloadable from the iOS or Android store you can not only print 4x6cm but even A4 borderless and I did so in just over 100 seconds and very good they were as well.
I actually set the unit up via USB from a connected printer and while I did scan, copy and print without problem I also downloaded the Canon App to my SmartPhone and printed not only photos (using the back tray) but text documents using the main tray without the PC even being turned on.
Claimed printing speeds were often unobtainable in real world situations but now as all manufacturers have to use the same test pages they are, but do bear in mind they will always be in the 'fastest' mode which may often be somewhat disappointing in clarity and sharpness.
Here the claim is 15PPM in monochrome and 10PPM in colour.
The page feed unit on top of the scanner flatbed can hold at least ten pages for faster scanning and of course you can reduce and enlarge copies and scanned images.
Having such a good sized display on the front of the unit means you can clearly see the image you want to print and even carry out basic manipulation.
Ink costs are a factor so a set of replacement inks from the link given is around £44.
The unit itself is available from Amazon at the time of publication for £116.75, including shipping who also sell an ink cartridge pack for £43.98. Additional details can be found on the Canon web site.