An ArtRage Update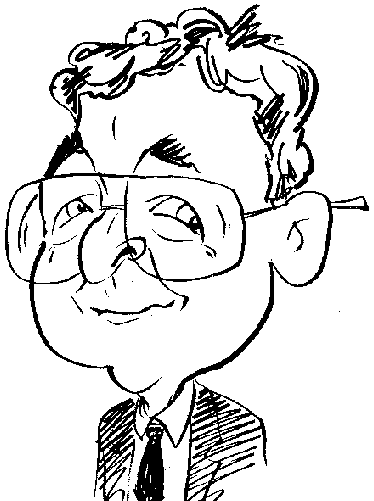 Review controls
No sooner do I reacquaint myself with the ArtRage graphics software than Ambient Design brings out a new version of this realistic art product for cross platform systems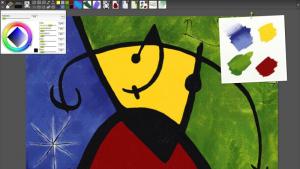 click image to enlarge
The latest edition of ArtRage is now up to version 4.5 for Mac and Windows platforms. Just in case you may have missed my review of the earlier ArtRage 4 product, I will recap on some of the salient points of the product before moving on to the new and enhanced features introduced in the latest version 4.5 of the software.
ArtRage is a package designed to provide art enthusiasts with the digital means of putting their creative ability to good use. Without doubt ArtRage is a software package that goes its own way with its approach to its interface that takes into consideration the needs of the user. As a result the screen layout is totally different from that adopted by other packages in the graphics software arena.
Arranged along the top of the screen is an array of option buttons. This array, when necessary, can be collapsed into a single icon to give you more working space. Wedged panels, containing painting tools and a colour palette, occupy the lower corners of the screen. Dotted around these wedges are containers called pods. These items feature topics such as Stickers, Stencils, Settings, Presets, Samples, Layers, Tracings and Refs. Some of the pods come populated and further items can be stored in them for future use.
With a range of printing and drawing tools that include pencils, crayons, chalk, brushes, markers and paint which can be wet or dry, ArtRage gives the user, whether a budding amateur or more seasoned artist, a workable environment in which to develop their creativity at a price of around £35 ($49.50). For those who have already purchased version 4 of ArtRage the good news is that Ambient Design has announced that this latest version of the ArtRage software is available as a free upgrade for all registered users of ArtRage 4. Upgrade discounts will be available for registered users of earlier versions of the product.
First and foremost in the new additions making an appearance in ArtRage 4.5 is the fact that the software now has 64-bit support when working on the Mac OS X and Windows platforms. This support gives the user improved performance with regards to speed and also brings the ability to work with larger file sizes and use enlarged canvases. The 32-bit version of the software will automatically be installed for those users whose system only supports this format.
When working on Canvas and Reference images, ArtRage 4.5 lets you overlay a customisable grid over your work. This feature will allow you to map out your work within a grid measured in pixels or proportions. Users have the ability to select to work with snap-to-grid lines or lines that are used purely for guidance purposes and have no other effect.
Another new feature is that of Live Pencil Tilt. The pencil tool can now accept tilt data as a factor. You do need to be working with graphics tablets, such as Wacom Cintiq or Intuos Pro, to make use of this feature. By adjusting the angle of your drawing tool, it will affect how the line appears in the digital image.
As well as the new features, of which I feel 64-bit is by far the most important, Ambient Design has enhanced some other aspects of the software. It is now easier to select your chosen font from those available while operations such as Undo, Redo and Transform have been speeded up. You now have manual control over the sorting of objects in the Toolbox and Colour Samples by the familiar method of drag & drop to reposition items. Resources can now be moved or duplicated between pod categories.
If you already own ArtRage 4, especially if you are running a 64-bit system, then you would be foolish to give this option a miss. Other users of earlier versions could well benefit from this software especially as there is a 50% discount. ArtRage apps are available for the iPad (priced at $4.99) or iPhone ($1.99) from the Apple iTunes Store. For new users this software is priced at $49.90. This software is compatible with 32 and 64-bit versions of Windows Vista and later or Mac OS X 10.6 and later.