HP PhotoSmart A618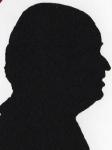 A photo printer but certainly not run of the mill as it not only supports 15x10cm but also 18x13cm and panorama 30x10cm images. It has a certain upmarket look.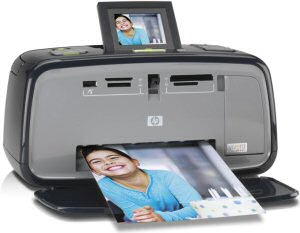 The unit is black with grey buttons and a grey trim around the drop down front that provided the reception for captured images. However when this is opened the whole front is found to be grey.
While this unit can be attached to a PC I suspect most people will use it standalone as not only does it support 'Pict Bridge' but it also has four card slots for XD, MS,CF and SD, not to mention Bluetooth also built in, unlike other units that supply a Bluetooth adapter, so printing direct from any Bluetooth device is also available.
The printer is 24x10.5x12cm when closed, it has a carry handle that fits within these measurements. When in use the front drops down and the rear opens slightly to increase the total depth to 23cm.It has a 4.5x3.5cm TFT display that looks bigger as there is a grey border within the surround.
The only controls not on the top or front are the power input and USB connector that are on the back. I have mentioned the card slots hidden behind the drop down front door. There are a total of fourteen buttons and three LED's around the TFT screen to control the unit.
In it's simplest use just insert a memory card view the images on the TFT select the one you want and press the only non grey button the silvered print button and wait for your image.
However you can - should you wish - have more than one image on a single sheet or you could print several or the same. You can do basic editing and my default any image sent for printing will automatically be checked for Red Eye.
It is possible to zoom into images so you just print part of an image and this is a lot easier than within some dedicated photo printing packages on a PC. An outline shows what you have selected, accept it and it prints.
The unit detects if you have 15x10cm or 18x13cm paper inserted and prints to that size. When it starts the likely print time is shown in minutes. For 18x13cm this starts at 3minutes but I found it took 135 seconds. For 15x10cm this starts at 2minutes but took only 100seconds. The image was dry on delivery.
The ink is HP's Vivera latest and the images were clear, sharp and had good depth and all this from a single cartridge three ink unit.
While there are cheaper units out there doing much the same job, this was not only extremely easy to use but also gave very good results. The look of the unit to my jaundiced eye was very smart - no pun intended - and certainly a printer that I would be happy to stick a camera card into knowing that the output was going to be up to scratch. Bluetooth built in is also a consideration.
The ability to print 18x13cm images is a big bonus as they carry a lot more clout than 15x10cm images. While panorama images are less popular - mainly because you need to setout to take images to support them - the results here were also very acceptable. My only query is unless you frame them how do you store 30cm long images?
The cheapest price I found was £77.10 including delivery from the first link below.
http://www.shopping4cameras.com/products/details.cfm?PRODUCT=Q7113A&refer=tdl
http://h10010.www1.hp.com/wwpc/uk/en/ho/WF06b/5043-5683-5807-5807-12441122-12441152-76513349.html