Canon Waterproof D30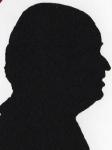 Another unit from Canons excellent PowerShot range. Here a small unit with periscopic zoom as this is a waterproof unit and this is essential for those wanting to takes images under water. It also takes excellent dry land images.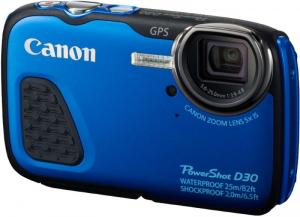 click image to enlarge
The Canon D30 digital camera measures 10.5x7x2/5cm and weights 210grams.
My unit was metallic blue and black, the later mostly rubber with a thumb rest top left of the back and finger holds on the front.
The right side has AV out and DC in both behind a door. The left side is clear, the base has tripod screw and a secure door behind which the solid battery is as well as any SD card you use.
The front has the lens top left with the bar flash 1cm to its side. The top has thee different silvered buttons, oblong for on/off, larger circular for shutter release and a smaller circular one with a red dot in the centre for instant video. This leaves the back that is dominated by the 7x5cm TFT display to its right are two rectangular buttons, then the rubber thumb rest and at the base two well marked buttons. Between these and the rubber thumb rest is the ubiquitous five position joystick.
This is a 12MP unit with 5x optical zoom, shockproof to 2 metres and waterproof to 25metres. I am told this will also work at -10 degrees Celsius.
My testing of its shockproof capabilities were no more than dropping it from around one metre and the waterproof ability was only leaving it in a sink for a few minutes but it had no ill effects from either.
As for the minus 10 degrees Celsius I took that at their claim as I have no wish be outside in that temperature.
It can capture images in 4:3, 16:9, 3:2 or 1:1. Each has four sizes L, M1, M2 or S.
As far as video goes you can capture in 1920x1080, 1280x720 or 640x480.
Underwater shots have a special mode to keep the image correct and even have a special macro mode for those close up shots.
This like most recent units has GPS capability and if taking shots say on a reef in some exotic place then I can see GPS being useful for when you return home to examine your images.
I tested this unit in winter but found a very bright light to play onto the screen and can confirm that it does have a bright display so even strong sunlight should affect your view.
I mentioned the special scene for underwater this unit has a total of 32 scenes so even in Auto mode you should get great images assuming you can select the right scene.
There is also a rather good slow motion feature.
Do not be put off by the fact this unit is only 12MP image size is not everything, ask a professional who will tell you it's done to the sensor and not sheer mega pixel.
The Canon D30 is available from the first link below for £239 with free delivery.
http://www.amazon.co.uk/gp/product/B00IE4AI4C?ie=UTF8&tag=gadge0a-21&linkCode=as2&camp=1634
http://www.canon.co.uk/For_Home/Product_Finder/Cameras/Digital_Camera/PowerShot/powershot_d30/