Abbyy's Updated OCR

Abbyy Finereader Professional 11 is the latest incarnation of a very effective OCR (optical character recognition) package. It is easy to use in its basic form as it comes 'out of the box' and is readily configurable to meet particular needs.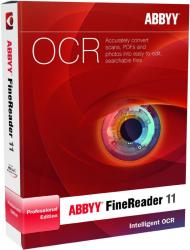 Finereader, as well as being available 'shrink-wrapped', can be downloaded from the Abbyy site and installs easily in just a few minutes. It is equally useful for dealing with odd sections of text or in reconstructing the native formatting of multi-page documents as well creating electronic books.
Although it will work in a vast number of languages, understandably, I selected English. However, that is not set in stone; this can be changed at will. It found two scanners on the system, one connected via USB and the other via Ethernet. It was easily to select the desired one and then, in practice, both worked satisfactorily.
On opening AFP11 the Quick Tasks window opens in the middle of the screen to enable the user to provide a simple, stream-lined, way of launching a number of common tasks such as obtaining an editable Word document from a scanned image; a PDF/image file or from a camera photo file. As long as one can get a good quality photographic image, this latter can be useful in obviating the need to take hand-written notes..
Similarly, Quick Tasks also provided a means of preparing HTML files (which it describes as e-book) and PDFs from the scanner; an ordinary file: or from a camera file. While not OCR, this appears to be a useful additional feature within AFP11.
The menus offer a wide range of choices so that for example documents can be saved in a number of different formats. These include the newer .DOCX and .ODT together with the longer established .DOC and .RTF together with Excel and Powerpoint format as well as a number of e-book formats.
Once a particular format has been chosen it will be applied by default when carrying out a Quick Task. However, it is easy for the user to change settings so as to be able to deal with the many situations where greater control over the process is needed. For example, one is able to select and recognise a number of paragraphs, rather than the document as a whole.
ABBYY claims that that this new version provides a more accurate reconstruction of a document's as well as an increase of processing speed of up to 25per cent on European languages. Furthermore, where AFP11 is being used on documents with decorative fonts or special characters, such as mathematical symbols it can be trained so as to improve to recognise accuracy.
Although it defaults to its 'thorough reading' mode where it will analyse and recognise the format and layout of complex documents, where the user is using it on straightforward documents with simple layout, the 'fast reading' mode can be used.
Abbyy Finereader is an absolute boon for the not-so-good typist and will, in fact, even be a major benefit for the competent typist -- especially where there is much work that would otherwise have to be retyped. It is available from www.abbyy.com for £99. (Boxed and download are priced the same.) It is also available from Amazon.co.uk for £92.94.